BEACHES
BICYCLING
CRICKET
DINING
ECO-ADVENTURES
FLYING
GAMING
GOLF
HUNTING GREEN FLASHES
PARASAILING
SAILING/BOATING
SHOPPING
SNORKELING
SPORT FISHING
TENNIS
WINDSURFING
Fishing Events | Boat Rentals & Charters
Game fish abound in the waters of The Bahamas. Ernest Hemingway, one of the icons of sport fishing, frequented these waters, and they remain a spectacular fishing locale. Angling enthusiasts will already know that Bimini is the deep-sea fishing capital of the world; its coastal waters yield giant tuna and enormous white and blue marlin, along with barracuda, amberjack, bonefish, and tarpon. The fishing in these parts is not limited to fish. The catching of succulent crawfish (lobster) and stone crabs are also popular pastimes. Deep-sea fishing in the Bahia Mer--the shallow sea--is a novel idea that's nevertheless sound.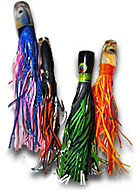 Tournament fishing is where it's at--see how you measure up with the best. Keep in mind that here you have a chance for the Big One, as over 50 fishing records have been set in the waters of The Bahamas.
If speed is what turns you on, try your anglers' skills against the wahoo, one of the fastest game fish in the world. Grouper and jack, abundant in these parts, are known both as good fishing and good eating. And if you're very nice to the chef at your local restaurant, he or she just might prepare your prize catch (or part of it) for you.