PRESS RELEASES
---
Latest News from Antigua and Barbuda
Tourism Minister in Discussions to Increase Airlift to Antigua & Barbuda
(St. John's, Antigua. 20th September 2010.) Minister of Tourism, Culture & Civil Aviation, John Maginley was in high level discussions with officials of Caribbean Airlines last week to secure additional airlift to Antigua & Barbuda for the upcoming tourist season. Minister Maginley met with Robert Corbie, Vice President Customer Experience & Airports and Wayne Henry, Revenue Manager at the Caribbean Airlines in Jamaica to discuss a proposal for two additional non-stop flights per week to New York commencing in November 2010.
The proposed flights will provide non-stop service from JFK, New York to VC Bird International, Antigua on Thursdays and Saturdays with an early evening arrival into Antigua at 18:40 and an early morning departure at 8:35am. This schedule will facilitate the smooth transfer of passengers on arrival at VC Bird International airport and will also allow convenient onward connections from JFK to the rest of the US and Europe.
"The meeting was extremely positive. The USA is now our most successful source market in terms of visitor arrivals and there is still potential for growth provided we have the airlift to meet the demand. I am committed to securing the airlift we need to drive our tourism industry." Said Minister Maginley.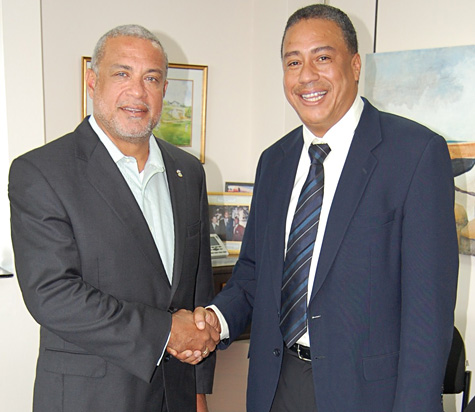 Photo Caption: L:R Minister John Maginley, Minister Tourism, Culture & Civil Aviation & Robert Corbie, Vice President Customer Experience & Airports
Antigua & Barbuda will also benefit from increased seat capacity from the UK this winter season 2010. Virgin Atlantic has scheduled two direct flights and one shared flight out of London, Gatwick Airport. By Winter 2011 all three flights will be direct.
# # #
For further information contact:
Angela Sinto
The Portfolio Marketing Group
Tel: 1 212-593-6415
Fax: 1 212-644-0864
asinto@pmgroup.bz
# # #
---
---

This page, and all contents of this Web site are Copyright (c) 1996-2010 by interKnowledge Corp., New York, NY. All rights reserved.