---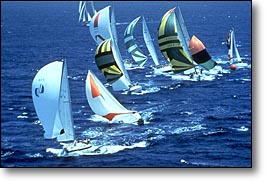 The coasts of Antigua are ideal for yacht cruising and racing, with constant trade-winds, and many harbours for exploration. Easily a week could be spent cruising around this picturesque island of the Caribbean. The sister island of Barbuda has shell laden beaches so long that they dip below the horizon.
There are good airline connections with North America and Europe and Antigua is centrally situated for Caribbean cruising.
English Harbour and Jolly Harbour make ideal yacht headquarters. For English Harbour's fine facilities, see the following site: Nelson's Dockyard.
Main events of 2010:
27th – 30th January 2010
Super Yacht Cup Antigua
Now in its 5th year, this four day event comprises three days of exciting racing mixed with lots of social activities.
www.thesuperyachtcup.com/antigua2010/
22nd February 2010
Royal Ocean Racing Club Caribbean 600
600 miles around the Caribbean starting and finishing in Antigua while taking in Barbuda, Nevis, Saba, St. Barts, St Maarten and Guadeloupe.
www.caribbean600.rorc.org
15th – 20th April 2010
Classic Yacht Regatta
Hosted by the Antigua Yacht Club, this regatta attract between 50 and 60 yachts every year. Competitors range from traditional craft from the islands, classic ketches, sloops, schooners, and yawls to the elegant Spirit of Tradition yachts, J Class yachts, and Tall Ships.
www.antiguaclassics.com
24th – 30th April 2010
Antigua Sailing Week
One of the top regattas in the world. Six days of challenging racing run and plenty of full social activities. Held under the auspices of the Antigua Hotels and Tourist Association.
www.sailingweek.com
6th – 10th December 2010
49th Annual Antigua Charter Yacht Show
The largest Charter Yacht Show in the world attracting up to 100 vessels.
www.antiguayachtshow.com
Other events of the year organized by the Antigua Yacht Club are the annual High Tide Series, Green Island Race, informal Round-the-Island-Race and the "after work" Thursday afternoon races for all-comers.
PRESS RELEASE
Big names and numbers expected at Antigua Sailing Week 2010
07-12-2009 15:19:22
Despite the current financial challenges, the 43rd edition of Antigua Sailing Week (24- 30 April 2010) promises to be one of the best yet. The organisers of this annual Caribbean classic have listened to the competitors' views and have come up with a new, tweaked format, incorporating some of the event's traditional features such as reintroducing lay day, and the Dickenson Bay Beach Bash. There will also be an extra day's racing, with the series kicking off on the Saturday afternoon following an early morning breakfast briefing.
For serious racers, the big boat Ocean Series is now a key element of Antigua Sailing Week and is really starting to attract some quality competition. The aim of this three-race series (Guadeloupe to Antigua Race – 23 April, Yachting World Round the Island Race – 25 April, and the Round Redonda Race – 28 April/lay day) is to allow the crews on big racing yachts, many of whom will have been competing in some of the other Caribbean regattas such as the RORC Caribbean 600 race, the opportunity to enjoy a selection of long-distance ocean races at ASW. There will be record-breaking opportunities in all three races, individual race prizes, and overall series prizes which means competitors have the option to compete in all three or individual races. The results of the Yachting World Round the Island Race on the Sunday will count towards the overall Antigua Sailing Week points for those who want to compete in that too.
Some of the key players such as Mike Slade's 100ft super maxi ICAP Leopard, and Peter Harrision's Farr 115 Sojana, which won the inaugural Round Redonda Race last year, and established a benchmark elapsed-time race record, have already indicated their interest in the 2010 event. Adrian Lee from Dublin, Ireland and his race winning team aboard the Cookson 50 – Lee Overlay Partners – will also be back next year to defend their overall winning title of the first ever Antigua Ocean Series. Lee enthusing about the Ocean Series, said: "The Ocean Series is a gem and exactly what the big boat sailors want at Antigua. Trying to race round the cans in these fast, powerful boats is not ideal because the risk of damage is high. I am therefore very much looking forward to seeing if we can equal, if not better our Ocean Series result from 2009."
Niklas Zennstrom's JV72 Ran with a star-studded team of British professional sailors onboard including Tim Powell, Adrian Stead and Steve Hayles, will be another team to watch out for. Danilo Salsi from Italy has also confirmed his place on the startline with his stunning new Swan 90 – DSK Pioneer. This yacht made her debut in the Caribbean last year and looks set to make a big impact on the racecourse in 2010.

Antigua Charter Yacht Show
The Yacht Show is organised and operated by V.E.B. Nicholson & Sons (Antigua Ltd). It takes place during the first week of December each year. This will be the 38th year this firm has invited agents from all over the world to inspect large charter yachts that have sailed from North America and Europe. A Marine Trades Show is also organised by the Marine Trades Association.
Some of the events are:
Inspection of yachts by agents for the upcoming charter season
Marine Trades Exposition
Lectures & slideshows
Luncheon & cocktail parties (by invitation)
Beating of the Retreat by the Royal Antiguan Police Force
For further info contact: nicholson@candw.ag
---
---

This page, and all contents of this Web site are Copyright (c) 1996-2010 by interKnowledge Corp., New York, NY. All rights reserved.