---
Follow this link to the Antigua Carnival Site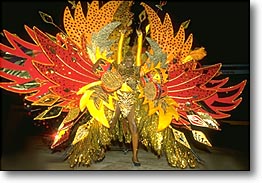 It is a ten-day festival of colorful costumes, beauty pageants, talent shows, and especially good music. The festivities, which celebrates emancipation, are exciting and extensive, ranging from the Party Monarch and Calypso Monarch competitions of Calypsonians, the Panorama steel band competition, and the spectacular Parade of Bands to the Miss Antigua Pageant and the Caribbean Queen's Competition. In addition to these major events, the nonstop revelry of this eleven-day carnival includes innumerable smaller festivities, including local concerts, food fairs, parades, and cultural shows. Please join us at Carnival 2009, the Caribbean's greatest summer festival!
Antiguan Music
There are several different musical forms featured during Carnival. Calypso, the oldest, has its roots in slavery; a common explanation of its origins is that it began as a way for slaves, who were forbidden to speak in the fields, to communicate with each other. It is a polyglot, improvisational form that depends largely upon the skill of a soloist, (the calypsonian) who weaves the sounds of many cultures into a lyrical whole. Calypso competitions have long been a highlight of Carnival.

Click here for Calypso and Road March Results.
Steel drum music was created when the bamboo percussion instruments traditionally used to back up calypso were replaced by hammered steel pans cut from oil drums. Whereas there is no dispute that the steel pan was developed in Trinidad, the indigenous development of the steel band in Antigua and Barbuda was an outgrowth of the iron bands which were prominent at Christmas time. Steel drum music has been an important part of Carnival since that time, and Antigua is home to many of the Caribbean's finest steel bands. Soca is a musical form that grafts the slower beat of American soul music to the upbeat tempos of calypso. Soca began in the 1970s, and by the middle of the 1980s it had become an integral feature of Carnival. Another musical form popular on Antigua is reggae. Although it originated in Jamaica, reggae has been incorporated into the Antiguan music scene for years.

---

This page, and all contents of this Web site are Copyright (c) 1996-2010 by interKnowledge Corp., New York, NY. All rights reserved.