PRESS RELEASES
---
Latest News from Antigua and Barbuda
DAME YVONNE MAGINLEY RECEIVES CTO LIFETIME ACHIEVEMENT AWARD
For Immediate Release
New York, NY, June 14, 2010. Antigua and Barbuda's Dame Yvonne Maginley DCN, CMG, OBE, OD was awarded the Caribbean Tourism Organization's prestigious Lifetime Achievement Award on Friday, June 11th, at the 37th Annual Governments of the Caribbean State Ball and Awards Presentation held at the Plaza Hotel in New York City.
Dame Yvonne was recognized by the Caribbean Tourism Organization (CTO) for her outstanding contribution to the development of tourism in the Caribbean. This prestigious award is bestowed on high performance individuals who have truly made a difference in the Region by empowering individuals and providing a legacy for future generations. Dame Yvonne was nominated by the Antigua and Barbuda Tourism Authority and was selected by a panel of independent judges from a list of very outstanding, accomplished and distinguished nominees.
A short video, which included a congratulatory message from Antigua and Barbuda's Prime Minister, The Rt. Hon. Baldwin Spencer, introduced Dame Maginley to the hundreds of Caribbean dignitaries, industry partners, media representatives and stakeholders in the region, who were attending the ball. In accepting the award, Dame Maginley spoke of her pride in Antigua and Barbuda and her belief in the potential of the tourism industry as an economic platform for the islands of Antigua and Barbuda and the wider Caribbean.
"I am truly delighted that Dame Yvonne was selected to receive the CTO Lifetime Achievement Award," stated Colin James, CEO of the Antigua and Barbuda Tourism Authority. "She has had a long and illustrious career in Tourism which benefitted not only Antigua but the entire region. She was instrumental in the formation of regional tourism bodies and has always been a strong proponent of pan regional destination marketing. We are very proud of her achievements."
Ms. Derede Samuel-Whitlock, Director/USA, and her team from the North American office of the Antigua and Barbuda Tourism Authority were also present at the Caribbean celebration.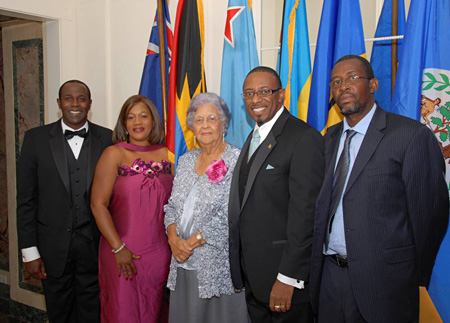 L-R: Dean Fenton, Sales Manager, ABTA; Derede Samuel-Whitlock, Director/USA; Dame Yvonne Maginley; Colin James, CEO, ABTA; Cortwright Marshall, CTO Chair, Board of Director
# # #
For further information contact:
Angela Sinto
The Portfolio Marketing Group
Tel: 1 212-593-6415
Fax: 1 212-644-0864
asinto@pmgroup.bz
# # #
---
---

This page, and all contents of this Web site are Copyright (c) 1996-2010 by interKnowledge Corp., New York, NY. All rights reserved.