---

Boating | Cricket | Tennis | Diving and Snorkeling | Swim with the Dolphins
Eco Tours | Windsurfing | Hiking and Birdwatching | Golfing
Fishing and Hunting | Riding | Bike Plus | Kayaking
South Coast Horizon -- Eco-Fantasies
Swim with the Rays | Tropical Adventures
Day Cruises | Island Speedboats | Sailing Cruises
Caribbean Helicopters | Estate Safari Tour or Classic Jeep Tour
Prickly Pear Island Excursion
Seasports
Sailing has been a central part of Antigua's culture for centuries, ever since the British under Horatio Nelson made English Harbour their Caribbean base. Today, the stately Georgian architecture of Nelson's Dockyard hosts a more pleasure-seeking fleet--the international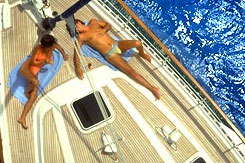 racing boats, recreational yachts, and classic sailboats of Antigua's annual Sailing Week. With such a rich marine tradition, its no surprise that boats of all sorts can be hired in Antigua. Most hotels have Sunfish or Sailfish, and a number of companies hire yachts.
---

Antiguans are more than a little devoted to cricket. The island has historically been a very strong contributor to West Indian and international cricket, and the Antigua Recreation Ground is one of the finest places in the Caribbean to take in a local, regional, or international match. Devotees of the game can visit the Antigua and Barbuda Museum for a look at the infamous cricket bat of Vivian Richards, native Antiguan, former captain of the West Indies Cricket Club, and one of the greatest batsmen of all time. Matches can be found almost anywhere on the island, at almost any time.
---
Tennis

Although more recently established than its sailing counterpart, Antigua's annual Tennis Week draws an impressive field of international competitors to the island in May of each year. Quite a few of the island's hotels have excellent facilities.
---
Antigua & Barbuda has hundreds of wrecks to explore and good shelf diving. Arrange for diving equipment through your hotel or guest house.
---
Swim with the Dolphins
Marina Bay, Antigua,
Tel: 268-562-SWIM (7946) Fax: 268-562-3646
One of Antigua's most exciting and thrilling activities is Swim with the Dolphins, swim with the dolphins program. This once in a lifetime adventure gives participants the opportunity to experience up close and personal playtime with dolphins, while gaining an understanding of these fascinating mammals and inspiring individuals to obtain an appreciation for marine life and the environment in which they live. Housed in a 5.5 million gallon lagoon at Marina Bay, these precious animals are sure to make your vacation unforgettable.
For more info visit their website www.dolphinfantaseas.com
---
Adventure Antigua: Eliís Eco Tour
Take the opportunity to explore the wild side of Antigua and Barbuda. Mangrove swamps, bird watching and reef snorkeling are available on-island.
This tour takes small groups of people to areas of the beaten track. Islands Magazine recommends this tour above all in Antigua.

For more info visit their website: http://www.adventureantigua.com/

---

Windsurfing
Dickenson Bay is the center of all windsurfing activity on Antigua. In January and July, the annual Windsurfing Antigua events are held there.

Windsurfing Antigua Watersports.
---
Hiking has not been much developed as an organized activity, although Antigua has many trails and tracks that are well suited to it. Most of the popular hikes lead to one or another of the island's many hilltop fortifications: Fort George sits atop Monk's Hill, and Fort Barrington (captured by the French in 1666) is on the promontory at Deep Bay. The Historical and Archaeological Society frequently arranges group hikes.
Much of the appeal of the natural environment in Antigua and Barbuda is the multitude of bird species to be found there. The Frigate Bird Sanctuary on Barbuda, though accessible only by boat, is the largest bird sanctuary in the Caribbean and contains over 170 species; Long Island and Great Bird Island also offer outstanding opportunities for birdwatchers.
---
Golfing

There are two golf courses on the Antigua: an 18-hole, 70-par course at the Cedar Valley Golf Club and another at Jolly Harbour. The K-Club on Barbuda also has its own 9-hole course.

JOLLY HARBOUR GOLF CLUB

1. Fairly easy all one has to do is obtain a membership form, fill it out, return form and pay monies then will be given a laminated membership card.

2. Different type of memberships are offered:-

Corporate membership - (the more members the less the cost)
4 corporate cards - $1,000.00EC per member
5/6 corporate cards - $950.00EC per member
7/8 corporate cards - $890.00EC per member

Single membership:
per year - $558.00US
6 mths - $345.00US
3 mths - $238.00US
1 mths - $180.00US

Homeowners membership
- once you own a property in Jolly Harbour fees are discounted.
Individual - $468.00US per year
Couples - $702.00US per year

Couples membership -
1 year - $820.00US
6 mths - $520.00US
3 mths - $345.00US
1 mth - $275.00US

3. Green Fee prices are already included in the membership fees, if a member does not have their own carts and clubs they can be rented at a special membership rate.
For non-members the fees are:-
9 holes - $25.00US
18 holes - $40.00US

Golf Cart fees:-
9 holes - $15.00US
18 holes - $23.00US

4. Telephone # 268-462-7771 Ext 608
Fax # 268-562-2810
E-mail: jollygolf@candw.ag

---
CEDAR VALLEY GOLF COURSE

1. Obtain and fill out a membership form - form has to be returned for approval - is usually approved. Once approved payments have to be made. There is a joining fee of $260.00EC

2. Membership fees:
Single - $1,280.00EC per year
Husband & Wife - $2,050.00EC per year
Family (husband & wife + Kids in school not college) $2,300.00EC per year

3. Green Fees $30.00US per 18 holes daily
Carts $30.00US per 18 holes (if cart is shared $15.00US per person)

4. Telephone # 268-462-0161
Fax # 268-562-2762
E-mail: golf@candw.ag


---
Sportfishing, bonefish in Barbuda's Codrington Lagoon, hunting of deer, boar, various gamefowl on Barbuda. Licenses and gun permits must be obtained in Codrington Village. The Antigua and Barbuda Annual Sport Fishing Tournament is held in May of each year.
---
There are several stables in Antigua. Arrangements for riding can be made through your hotel.

---
Bike Plus
Offers Mountain Bikes for short or mid-term rentals and the sale of bicycle parts and accessories.

Address: PO Box 2771,
Independence Drive
St. Johnís, Antigua
Tel: 268 462-2453, 268 462-6050
Fax: 268 460-7587
Email: bikeplus@candw.ag
Contact: Curtis Ryan
Hours of Operation: Sunday Ė Monday (6 days)
---
Kayaking, Swimming, Snorkeling, Boatride
An Eco Tour Not To Be Missed - Antigua's Best Kept Secret Discovered By Few
Websites: http://www.antiguapaddles.com
http://www.antiguadestinationplanners.com/
Email: labarrielc@candw.ag
A unique Eco experience in one of the best unspoiled coastal areas in the Caribbean. Experienced guides will ensure you enjoy a half day of kayaking, snorkeling, power, boating and hiking adventure on the beautiful east coast of Antigua.
Paddle tranquil lagoons, uninhabited islands and protected mangroves and snorkel and hike at Bird Island, a 20 acre 'jewel in the ocean' that has white beaches, live reef and rare wildlife.
South Coast Horizon -- Eco-Fantasies

Kayaking
Boardwalk
Pyramid Park
Snorkeling
Lecture Theatre
Palm Tree Garden
Lagoon Adventure

Cades Bay Antigua, W.I
Tel: 268 562 4074/5

e-mail: admin@southcoasthorizons.com
website: www.southcoasthorizons.com
---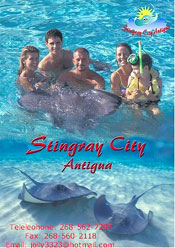 Enchanting 'Stingray City' Antigua, fringed and protected by its own reef is where the delightfully calm, crystal-clear waters make possible an actual swim with the rays.
The unbeatable scenery and pristine coral reef encircling the area enhance this amazing experience, second to none in the world.

Stingray City Antigua
Telephone: 268 562 7297
Fax: 268 560 2118
Email: jolly3323@hotmail.com
---
Tropical Adventures
Tropical Adventures offers a wide range of excursions and incentive programs including Airport Transfers, Off Road Jeep Safaris, Historical Tours, Five Star Catamaran Lunch, Snorkeling, Kayaking, Lobster Lunch Tours, Pirate Ship Adventures, VIP tours and much more. Our wide choice of tours enables us to customize excursions to meet and exceed your clients expectations. Tropical Adventures believes in protecting our environment and cultural heritage with out which our tours could not operate. Our professional and enthusiastic staff is committed to service excellence and safety.
For more information and photos click here!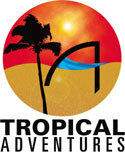 Tropical Adventures
P.O. Box 301
Redcliffe Quay
St. John's
Antigua, W.I.
>
Tel: 268-480-1225
Fax: 268-462-2064
Email: tropad@candw.ag
Website: www.tropicalad.com
---
Day Cruises: Kokomo Cat Cruises Ltd.
Even the most devout landlubber will enjoy sailing aboard the newest, fastest, and safest catamaran in the Caribbean.

Click here for details of cruises available:
www.kokomocats.com
Email: roosh@candw.ag

Tel: 1-268-462-7245 (that's 1-268-462-SAIL)
Fax: 1-268-462- 8305
---
Wadadli Cat Antigua
Our friendly, professional crew know exactly what it takes to give you a good time!

Thirst quenching drinks, delicious food and calypso rhythms turn an exhilarating sailing experience into the ride of your life!

Our three boats offer an unrivalled quality and variety of cruises at unbeaten prices. We also do private charters.

Click here for details of cruises available:
www.wadadlicats.com
Email: wadadlicats@candw.ag

Tel: 1-268-462 4792
Fax: 1-268 4623661
---
Islands Speedboat Ltd.
Antigua's newest water-bourne attraction
http://www.island-speedboats.com/

"Experience" the thrill of a speedboat trip in our unique chauffeur-driven Glastron GX185 speedboat

Postal Address: PO Box 179, Jolly Harbour
Telephone: 1 268 774 1810 or +1 268 774 7215
Fax: 1 268 560 9488

email@island-speedboats.com for general enquiries or
bookings@island-speedboats.com for our 'fastrak' booking service where we will try to respond to your mail within a few hours.
---
Sailing Cruises

"SENTIO" has been serving the important guests of the finest resorts for 10 years. We specialize in chartering for small groups, (we can accommodate up to 18 guests) providing first class service and world class fun. Because we offer private yacht cruises, you can set the agenda. The cruises we offer are:

- Full and half-day sailing cruises along the Caribbean coastline visiting deserted beaches, shell collecting, snorkeling, or just sitting back in the spacious covered cockpit over a gourmet lunch and a glass of wine.

- Champagne sunset cruises from The premier Curtain Bluff Resort or Historic Nelson's Dockyard, English Harbor.

- Weddings...get married on the yacht or have the bride and groom go for a romantic cruise after the ceremony. (We take care of all the details.)

- "private romantic" get-a-way's... wear (or not) what you want and we'll take you to that deserted bay and beach.

- Birthdays, Anniversaries and special events are our specialty. Families with kids are very welcome aboard... the kids love it! We even do special meals for them.

- Sailing lessons for the whole family and week-long sailing charters to other Islands can be arranged.
Email: sentio@candw.ag
Website: www.sail-antigua.com
---
Caribbean Helicopters

The most memorable tours in the Caribbean:
On our tours you can see just about all of Antigua's coastline from deserted offshore islands to the downtown cruise-ship port and from busy Dickenson Bay to pristine and rugged Half-moon Bay. Visit Monserrat and get closer to an active volcano than is possible any other way, then see the charred remains of its now deserted capital city. If you want something special, allow us to suggest some custom tour options for you. Whatever you choose, you wont forget your tour with us!
Website: www.caribbeanhelicopters.net
---
Estate Safari Tour or Classic Jeep Tour

No visit to Antigua can be considered complete without an ESTATE SAFARI TOUR or CLASSIC JEEP TOUR around the Island.
Website: www.estatesafari.com
Make Advance Booking online now!!
---
Miguel's Holiday Adventure, Prickly Pear Island Excursion
Lobster, fish, conch, chicken, rice, salad and a variety of snacks.
Open bar with alcoholic and non-alcoholic beverages.
Snorkeling equipment and professional instructions.
Sunbeds, umbrellas, picnic tables.
Private excursions can be arranged.
Website: www.pricklypearisland.com
---
Seasports Ltd.
Dickenson Bay
Antigua, West Indies
1-268-462-3355
e-mail: Seasportsltd@hotmail.com

A complete water sports facility, established since 1980. Located at Dickenson Bay, activities include jet skiing, waterskiing, parasailing, kayaking, hobie and sunfish sailing, windsurfing and tubing.

Also available are sun beds with umbrellas, a beach bar with cold drinks and snacks, fresh water facilities. A calm bay ideal for families with children.

Custom tailored snorkeling trips to many of our beautiful reefs on Tashi, a 41 Ft. rib design boat.

Call us or email us for more information.
Open 7 days a week.

Click here to see what visitors are saying about activities
in Antigua and Barbuda.
---