The manufacturing sector of the Bahamian economy is rapidly maturing into a major contributor to growth and progress. Today, offshore manufacturing contributed $130 million to the economy annually, with domestic manufacturing accounting for another $90 million.
Bahamas Investment Authority

Establishing a Financial Institution

Banks & Trust Companies

Insurance Industry

Mutual Fund Managers

Trust Formation

Incorporation Procedures

International Business Companies (IBCs)

Shipping Registry

Export & Import Trade

Agriculture

Freeport Free Trade Zone

Manufacturing in The Bahamas

Tourism Development

Real Estate & Second Homes

Labour Standards in The Bahamas

Infrastructure

Telecommunications

Legal Firms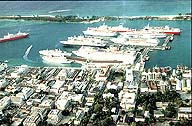 Manufacturing in the Bahamas

The Bahamas is a prime location to establish an off-shore manufacturing facility. It is well positioned in terms of its location, trade relationships, and economic policies to become a central business location in the rapidly-integrating Western hemispheric market. Just 50 miles off the US coast, The Bahamas allows easy access to the markets of North and South America. Additionally, it is a party to The Caribbean Basin Initiative, CARIBCAN, and the Lome IV Convention, which allows most goods manufactured or processed in The Bahamas to enter the US, Canada, and Europe duty-free--a market of over 600 million people in North America and the European Union.

The Bahamian people are friendly, well-educated, and loyal workers. Government has recently adopted a new targeted programme to improve technical and vocational training in the regular school programme. Additionally, an expansion of technical skills training at the Industrial and Technical College is preparing increasing numbers of young and talented Bahamians to meet the demands for skilled labour in he light industries sector.

The infrastructure in The Bahamas is modern and well suited to accommodate commerce. Six major international airports are located throughout the islands (smaller facilities are found on the more remote islands), serviced by a variety of major international carriers. The Port at Nassau receives the largest and most sophisticated of cruise liners.

Telecommunications services are modern and efficient. Instantaneous direct international links are provided through a 100% digitized switching system. Telephone networks, facsimile, cellular services, private line services, telex, satellite, and radio leasing and packet switching are all available in The Bahamas.

As a former British colony, The Bahamas has a strong heritage in democracy and free market economies. Political stability is a hallmark of the parliamentary democracy that has existed in The Bahamas for the past 266 years, and prudent economic policies have made it a beacon of economic stability. Public spending and foreign debt are under control, inflation is low and the Bahamian dollar is pegged on a 1:1 ratio to the US dollar.

Tourism, the mainstay of the Bahamian economy, generates over 3 million tourist arrivals, thereby dramatically expanding the existing domestic market of 273,000. Excellent opportunities exist for the creation of linkages between the manufacturing, food processing and textile industries and the tourism and export sectors.
---
Offshore Manufacturing
The manufacturing sector of the economy is rapidly maturing into a major contributor to growth and progress in The Bahamas. Today, offshore manufacturing contributes $130 million to the economy annually with domestic manufacturing accounting for another $90 million. The Bahamas is one of the world's premier tax havens. Manufacturers enjoy a variety of tax breaks and legal incentives by locating a business here. Companies pay no taxes on personal or corporate income, capital gains, dividends, interest, royalties, sales, estates, inheritances or payrolls.

Investment incentives under the following Acts include, but are not limited to, exemption from import duties on building materials, equipment, designated raw materials, real property tax, and business licensing fees. A few of the more important legal incentives are:
The Industries Encouragement Act
The Tariff Act
The Hotels Encouragement Act
The International Persons Landholding Act
The Agricultural Manufactories Act
The Export Manufacturing Industries Encouraging Act
The Bahamas Free Trade Zone Act
The Spirit and Beer Manufacture Act
The Hawksbill Creek Agreement (Freeport, Grand Bahama Island)
Further, there are no legal impediments stemming the free flow of corporate profits, dividends, interests, and royalties from The Bahamas to any international destination.
---
Manufacturing Opportunities for Foreign Investors
Freeport, Grand Bahama Island
Freeport, on the island of Grand Bahama, is The Bahamas' largest industrial centre. Freeport is a 200-square-mile free trade zone and tax free zone, whose focal point is the Freeport Harbour. The development of a world-class container transshipment terminal at Freeport Harbour on Grand Bahama Island, scheduled for completion in 1998, creates additional advantages for manufacturing and assembly plants located in The Bahamas.
---
Fisheries & Aquaculture
Comprised of 700 separate islands and cays covering an area of 80,000 square miles, The Bahamas is a premier seafood production location . The development of a thriving shrimp farming industry has great potential in The Bahamas.
---
Pharmaceutical Manufacturing
The Bahamas is a promising site for both large and small pharmaceutical manufacturers. Syntex Pharmaceutical, a US corporation, has operated a successful manufacturing plant in Freeport for Many years. Because of Syntex's presence, a skilled pharmaceutical labour force exists in Freeport.
---
Agricultural Development & Food Processing
The mild climate and unpolluted Bahamian environment never experiences winter frost. The Bahamas has large tracts of unused, fertile land and plentiful supplies of fresh water, particularly on the islands of Abaco, Andros, and Grand Bahama. Its proximity to North and South America and its well-developed transportation system makes The Bahamas an ideal site to locate agriculturally-based businesses.

Opportunities exist in livestock production (beef, chicken, pork, dairy, mutton), crop production (potatoes, peanuts, bananas, citrus fruits), and food processing and preservation (beef/chicken/pork/mutton processing, fruit and vegetable production, edible oils, and animal feed production).
---
Electronics Manufacturing
The Bahamas has the key ingredients necessary to operate a successful electronics manufacturing concern--a strategic location, a skilled and loyal work force, a modern transportation and distribution system, and a free-trade zone in Freeport, where materials and goods can be imported and exported without paying taxes or customs duties.
---
Other Opportunities
There are also opportunities for:
Jewelry manufacturing
Shoe and garment manufacturing
Personal care and cosmetic products
Light plastic products
Tool assembly and manufacturing
Light machinery manufacturing
Chemical manufacturing
VCR assembly
Radio assembly
Computer assembly
Toy assembly
Furniture manufacturing
Additional information can be obtained from:
Bahamas Light Industries Council
c/o P.O. Box SS5599
Nassau, N.P., The Bahamas
---