VENEZUELA
Business
If you meet a business traveler in Venezuela, there's a good chance they work in the petroleum industry. It is by far the nations leading export, accounting for well over two-thirds of all export revenue. Because of the fluctuating oil market, however, the country has embarked on an ambitious program to develop its tourism industry, which the government hopes surpasses oil revenue by the year 2002. Below is a list of the nation's major industries: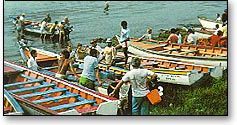 Petroleum
Iron, Steel, and Aluminum
Agriculture
Banking
Tourism
Fishing
Insurance
---
Copyright (c) 1998-2010 interKnowledge Corp. All rights reserved.

.