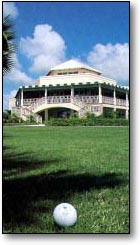 Provo Golf Club is one of the newest in the Caribbean, it is 6,529 yards and par 72 and is situated on the island of Providenciales.
This challenging course was designed by Karl Litton and provides a true test of the game to everyone. The course is full of tight lush fairways, unrelenting water hazards and bunkers that put the player to test of hitting not always long, but accurate shots. Large sandy waste areas bordering a number of the fairways create targets for the player.
Provo Golf course is the kind of course that will make you want to come back and play it again, it truly is a golf course you will never forget !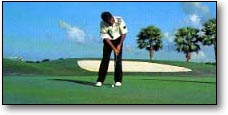 The magnificent clubhouse features the " Fairways Bar & Grill ", a unique restaurant that offers the best in breakfast and lunches as well as your favourite beverages.
The air-conditioned clubroom overlooks the 9th green and 1st tee, and for those who want to get closer to the action, a covered veranda is steps away. With Provo's resorts and hotels offering a vast array of golf packages, the club offers the best in uncrowded golf as well as first class facilities.
Waterloo golf club is a 9 hole, par 54 course built in the grounds of the Office of the Governor of the Turks & Caicos Islands. Officially opened on January 3, 1998, it was designed by His Excellency the Governor and built entirely by volunteers, including the Governor himself.
The course which is 2758 yards long, is open to tourists. It is located just a few hundred yards from the South Dock. The Green Fees are US25 per day, no matter how many times you play.
If you wish to play during your visit to Grand Turk, simply call in at the Governor's office. As the course is small, the number of players allowed on the course at once is limited to 36 so please come early. Clubs are available for hire, but if you have your own clubs please bring them along as numbers are limited.



The Original Official Web Site of the Turks & Caicos Tourist Board
This page, and all contents of this Web site are Copyright
(c) 1997-2006 by interKnowledge Corp.. All rights reserved.