In the spring of 1784, Nelson was given command of the Boreas, a 28-gun frigate, with orders to proceed to the Leeward Islands Station at English Harbour, Antigua. His task was to enforce the Navigation Act, which stipulated that only British vessels could trade with Britain's Caribbean colonies. The Act had become a major problem with the end of the American Revolution, as American vessels, now foreign, continued to dominate trade between the West Indies and the former colonies. Moreover, the West Indian merchants and planters, who were rather interested in maintaining a very profitable part of their trade, had the audacity to quietly encourage such pernicious practices. As a result, the arrival of Captain Nelson was not greeted with exceptional joy.

The situation worsened a few months later when, cruising off Charlestown, Nevis, the zealous young commander seized four American ships illegally laden with Nevisian goods. Although the ships had obviously violated the Navigation Acts, their captains (supported, to Nelson's great chagrin, by the Charlestown merchant community) sued him for illegal seizure in the amount of 40,000 pounds.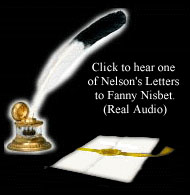 In the ensuing trial, the judge eventually upheld the British navy's right to seize the American ships. However, to avoid arrest and imprisonment in the interim, Nelson spent nearly eight straight months aboard his frigate--a situation that he did not find at all amusing. Before sequestering himself in the Boreas, however, Nelson had met Francis Nisbet, a young Nevisian widow, and had called at her Montpelier estate. He was quite taken by her refinement, as well as by her resourcefulness in operating a large house alone. She was, in addition, an accomplished musician and a fluent speaker of French. Nelson and Fanny quickly fell in love, and they married on March 11, 1787, at Montpelier. Prince William Henry, Duke of Clarence, later to be King William IV of England, and a close friend of Nelson's, gave away the bride.
Click here for books on caribbean history...