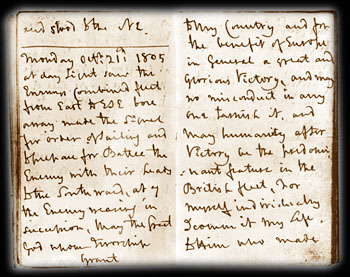 In 1793, after four frustrating years in England, newly-married but without a commission, Captain Nelson was assigned the 64-gun Agamemnon, inaugurating the period of his greatest triumphs. A tactical genius, Nelson also had a unique ability to command steadfast loyalty and draw out the particular skills and abilities of his fellow soldiers, a style which became known as The Nelson Touch. Unlike most officers of the day, Nelson included his subordinate officers in the tactical planning of engagements, and many who served under him regarded him as a personal friend in addition to a brilliant commander.

On October 21, 1805, a few miles off the coast of Spain, Nelson engaged in his greatest and final battle, Trafalgar. Leading a fleet of 27 ships, his task was to destroy the 33-ship combined French and Spanish fleet based in Cadiz. Gathered for Napoleon Bonaparte's aborted invasion of England, the Cadiz fleet provoked considerable alarm in Britain. Even after it became clear that Napoleon wouldn't invade, the large French and Spanish force could cause enormous trouble in the Atlantic, the Mediterranean, and even the Caribbean. To prevent such difficulties, Nelson set up a blockade of the Cadiz harbour, forcing an engagement if the combined fleets left their base--which they did on October 19.

Click here for books on caribbean history...