---
The Museo Nacional de Antropologica y Arqueologica
This museum houses the nation's most extensive collection of pre-Columbian artifacts, and the museum maintains an outstanding international reputation for its curatorial and presentational accomplishment. Ceramics, granite obelisks, and textiles of the various pre-Columbian cultures--including the Nazca--are displayed here, offering visitors an unmatched introduction to the great civilizations that flourished in Peru thousands of years ago.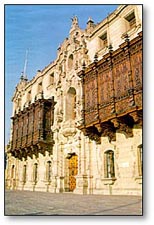 Historical Center
Historical attractions abound in Lima. There is the City Center, with its
impressive colonial architecture; the Main Square, the Cathedral, the Government Palace, the Municipal Theater, the "Desamparados" Train Station and the old streets with their viceroyal mansions and moorish-style balconies.

The Museo de Oro
The "Gold Museum" is private museum, wholly devoted to displaying the legendary treasures of Peru's ancient, pre-Columbian civilizations. Its collection includes pieces from the fabulous golden treasure of the Incas.


The Indio Market (Mercado Indio)
Located between 6th and 10th on Avenida La Marina, this colorful market specializes in crafts. Shoppers can bargain for fine woolen clothing, carved wood, tooled leather cushions, stools, silver jewelry, and other curios.
Parque Las Leyendas
At this zoo designed to showcase Peruvian wildlife, visitors can discover the flora and fauna of Peru's three distinct habitats: the Costa (the coast), the Sierra, and the Selva (jungle).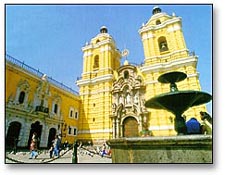 The Church of San Francisco
One of the most remarkable of Spanish colonial buildings. Its extraordinary, intricately geometric decoration is one of the few examples in the Americas of the mudejar, or Andalusian Moorish, design. The adjoining monastery's immense collection of antique books, and the vast catacombs beneath the church's grounds, discovered in 1951, are most impressive.

Chinatown
Chinatown, near the city center, is where Peruvian and Chinese cultures blend. The Chinese food here is excellent, and you can dine while admiring the Chinese Arch at Capon Street.

Jockey Plaza Shopping Center
Recently built, this modern shopping center is considered the best in South America. It has a private parking lot and almost 200 exclusive shops offering everything from sunglasses to pet.

Monterrico Hippodrome
National and International horse races take place four days a week here: Tuesday and Thursdays races begin at 7pm; Saturdays and Sundays at 1pm.

Petit Thouars Handicraft Market
Textiles, handmade wool sweaters, ceramics, silver and gold jewelry, bomboo quenas, traditional outfits, alpaca carpets and be bought and admired here. It is located in Miraflores, on Petit Thouars Avenue.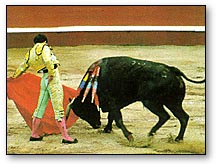 Bullfighting
Bullfighting in Lima is Spanish-style, meaning that the bull is killed in the end. The arena at the Plaza de Ancho in Rimac, the oldest in the Americas, serves as the stage for this unforgettable spectacle, which takes place during the brief bullfighting season in late October and November.

Soccer Stadium
Five minutes from the city center is the stadium where Lima's most popular teams like Alianza, Cristal, and "U" play every weekend. International games are also hosted here. A private parking lot is available.
---
Copyright (c) 1998 interKnowledge Corp. All rights reserved.