MEXICO CITY
Explorations
Teotihuacan Archeological Zone
Teotihuacan is one of the best-preserved pre-Columbian cities in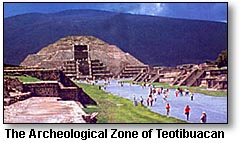 Mexico. It sits only 30 miles outside the city and can easily be toured in less than a day. The city is very old, pre- dating Christ by several hundred years. At one time, an estimated 200,000 people lived there, but by the 8th century it was abandoned. The zone is huge, covering about 5 square miles and countless structures, chief among them the Pyramids of the Sun and Moon.

El Zocalo
In the center of Mexico City is El Zocalo, one of the largest public squares in the world. Dominating the Zocalo is the Metropolitan Cathedral, Latinamerica's biggest Catholic church. Construction began in the late 16th century but was notfinished until the 1900s. East of the Church, lining the square, is the National Palace, the seat of the federal government. Inside the Palace are highly acclaimed murals by Diego Rivera that illustrate the nation's rich history.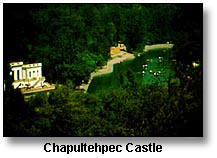 Chapultepec Park, Castle and Zoo
Chapultepec Park is Mexico City's largest park and the site of numerous historical and cultural attractions. Among them is Chapultepec Castle, where theUS Army attempted to stage an invasion in 1947. The castle is also the former residence of Emperor Maximillian and Porfirio Diaz. Also in the park is the city zoo, two artificial lakes, the reknown Museum of Anthropology, as well as various other art museums.

San Angel Cultural Center
This cultural center, situated in the southern part of the city, was once a 17th century convent. Today it houses a viceregal art museum and works by Correa and Villalpando.

Cuernavaca and Taxco
Both of these cities lie in the region immediately surrounding Mexico City, and are among the most popular excursions. Cuernavaca, a posh escape for the Mexico City's elite, is known for its clean air, cool weather, picturesque aqueducts and walled streets. It was the summer retreat of Hernan Cortez, who built a castle there. Taxco, further south, is the silver-working capital of Mexico. The entire town is a national monument.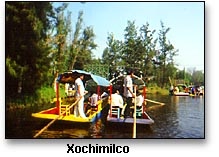 Xochimilco Gardens
These gardens are what remain of the old lake city of Tenochtitlan. You can rent boats here and drink and dine while a boatman poles you along waterways, not unlike the gondoliers in Venice.

Papalote Children's Museum
A must for kids. The museum is designed to give children a hands-on introduction to the mysteries of the natural world. There is also an IMAX theater.

Reino Aventura
Mexico City's modern amusement park - a full range of rides and attractions.
..............................................................................
Museums
National Museum of Antropology:
Often hailed as Mexico's best museum, it houses the largest collection of pre-Columbian artifacts in the world.

Rufino Tamayo Museum:
A splendid museum featuring works donated by Tamayo himself, and many other artists.

Museum of Modern Art:
Its permanent collection includes works by Orozco, Rivera, Siqueiros, Kahlo, Dr. Atl, Castellanos, Revueltas, Tamayo, and Rodrigues Lozano.
---
Copyright (c) 1998-2008 interKnowledge Corp. All rights reserved.

.