MEXICO CITY
Explorations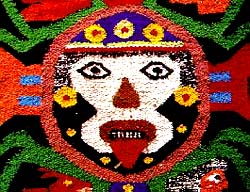 The Templo Mayor, or great temple, is a museum located atop the archaeological remains of the Aztecs' most revered building, which was demolished by the Spanish when they captured Tenochtitlan. The Templo Mayor is a fine way to gain an introduction to Mexico City's ancient past, but no visitor should miss the Museum of Anthropology. With a collection that comprises artifacts from all of the many pre-Columbian cultures that inhabited Mexico--from the Teotihuacan and the Toltecs to the Mayans and Aztecs--the museum ranks among the world's greatest repositories of ancient culture.
Another legacy of Mexico City's pre-Columbian past are the floating gardens of Xochimilco. Visitors can stroll or float through the tranquil floating gardens, listening to mariachi bands. Gondoliers travel the canals, and flower vendors let the visitor carry blooms out of the gardens.
Just as the Templo Mayor marks the center of Mexico City's ancient identity, Diego Rivera's monumental murals in the National Palace stand at the center of modern Mexico. The National Palace sits on the Zocalo, the city's major square for over five hundred years.
Frida Kahlo, the controversial artist whose popularity has grown since her death, has her own museum in Mexico City. Kahlo was married to Rivera, and her bright, beautiful home and studio have been turned into a memorial and museum of both her work and her life with Rivera.
A more whimsical attraction is the Papalote Childrens' Museum, which admits adults only if they are accompanied by a child--otherwise the whimsical museum would be crowded with grownups. This hands-on museum features, among other things, remote-controlled planes and a nightmare-eater.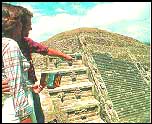 Thirty-one miles north of Mexico City are the Pyramids of Teotihuacan. The magnificent Teotihuacan culture flourished before the Aztecs.
For shopping, it's hard to find a more diverse place than the Zona Rosa. Even with automobile traffic banned from the area, it remains one of the busiest districts in the already teeming Mexico City.
The Plaza Garibaldi is a favorite with the after-hours crowd in Mexico City. The mariachi bands entertain those who aren't busy people-watching.
---
Copyright (c) 1998-2008 interKnowledge Corp. All rights reserved.

.