MEXICO CITY
An Introduction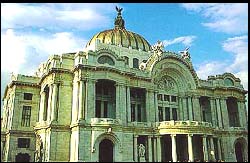 Mexicans simply call it Mexico, and many will say that Mexico City is the essence of its nation distilled into a small area--its life, its problem spots, its great history, personality, and expansiveness of spirit. People have been living in this valley for 20,000 years, making it one of the oldest continuously inhabited sites in all of North America. That history is evident in the physical structure of the city itself. The tremendous abundance of life in Mexico City stands upon layer after layer of the past.
Twenty millennia ago, the floor of the valley where Mexico City now stands was dotted with lakes, and clusters of villages huddled around these water sources. When the Aztecs descended upon the valley in search of a new place to build, one of their priests saw a living vision: an eagle perched on a cactus, in the process of consuming a snake it held in its claw. A temple was erected on that spot, and the people followed, naming the new city Tenochtitlan. By 1500, Tenochtitlan was one of the largest cities in the world, a teeming metropolis as yet unseen by European eyes. With broad avenues, magnificent temples and public buildings, dozens of bridges, sluices, and marketplaces, Tenochtitlan in its day was more advanced than Venice, its contemporary European counterpart. Nonetheless, with the arrival of the Spanish, Tenochtitlan fell under European domination, losing much of its grandeur as the Spanish razed its great buildings.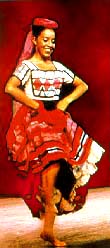 Today, Mexico City is a sprawling behemoth, once again one of the world's greatest cities. Its symbol is still the perching eagle with a snake held tightly in its claw.
Mexico City's quick pulse and dense vitality can be dizzying at times. Flower sellers tote their color-laden baskets from street to street, street vendors hawk their wares on every corner, and performers will mime, juggle, or swallow fire for applause and a few pesos. The traffic can sometimes be overwhelming. The city is a place of nonstop interaction and occasional collision, easy to get lost in, easy to love, and easy to be overwhelmed by.
Sundays are the best days in Mexico City. The markets are open, and, if it's bullfight season, the fights are on. Life slows down just a fraction, and people haggle for goods in the plazas and peruse the sidewalk art fairs at the Parque Sullivan.
---
Copyright (c) 1998-2008 interKnowledge Corp. All rights reserved.

.