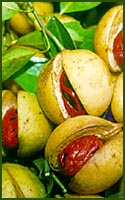 Grenada is a rolling, mountainous island, covered with fragrant spice trees and rare tropical flowers. Bordered by stunning beaches, and dotted with picturesque towns, this verdant island has long been a major source of nutmeg, cloves, ginger, cinnamon, and cocoa. The seductive drifts through the colourful Saturday markets and Grenada's dense forests. In the interior of this volcanic island are cascading rivers and waterfalls, lush rainforests, and one of the most breathtakingly beautiful mountain lakes imaginable. The capital, St. George's, is widely held to be the loveliest city in the Caribbean. Its horseshoe-shaped harbour is surrounded by a pastel rainbow of dockside warehouses and the red-tiled roofs of traditional shops and homes.
Grenada's physical beauty is complemented by its rich history and vibrant, living cultural heritage. Local festivals, fairs, and markets remain an integral part of life on Grenada. Its centuries-old spice plantations and rum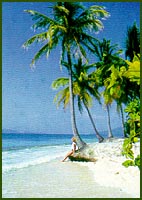 distilleries still use traditional methods, emphasizing quality rather than quantity. Although the tourist industry has become more substantial in recent years, the island's easy rhythms and the friendly openness of its residents evoke an atmosphere that has long since vanished elsewhere.
For many visitors, of course, the measure of any island is taken by its beaches and coral reefs, and Grenada offers plenty of both. The island is ringed with miles of picture-perfect strands, including both entrancing black and sugar-fine white sand beaches. Grand Anse Beach, a smooth expanse stretching for two miles around the curve of a gentle bay, is world famous. Grenada has plenty to offer those interested in offshore pleasure as well, with easily accessible and pristine reefs off the coast of both Grenada and its sister island, Carriacou.