Entertainment, Dining, and Shopping in Switzerland...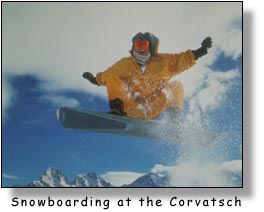 Entertainment
The opera houses in Zurich and Geneva are Belle Époque gems. Winter resort areas such as St. Moritz, Zermatt and Davos are known for après ski activities. Many cities and towns offer Swiss folklore shows.
Food & Drink
There is no "official" Swiss cuisine; regional cuisines are as diverse as the local history and customs they represent. But there's universal pride in using only the best ingredients, prepared to perfection.
Nearly every town is close to a lake, so freshwater fish dishes are often featured on menus. You'll be tempted by the superb regional sausages. Have at least one Käse Wurstsalat, which is a light meal of sausage and cheese.
In season, local mushrooms appear in croûtes and risotto ai funghi. Pies or tarts filled with savory combinations of meat, cheese, bacon and vegetables are popular main courses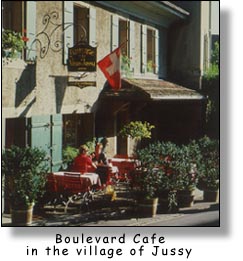 .
Some of the best-known specialties are based on cheese. A gently bubbling pot of fondue is a perfect dish to share with friends. Some restaurants specialize in cheese dishes: try raclette (melted cheese served with potatoes and pickles), ramequins (cheese tartlets) or malakoffs (cheese fritters). And you can't go wrong with some cheese au naturel and good crusty bread.
At the end of the meal there's never a shortage of ways to indulge your sweet tooth. You can always have one of those sumptuous pastries with afternoon tea or coffee at one of the many sidewalk cafes.
The Swiss produce many wonderful wines, lively schnapps and great beer.
Shopping
Swiss goods are world renowned for high quality and superb finish. The best place to buy genuine Swiss souvenirs is in one of the Heimatwerk (shops which offer a marvelous choice of handmade products from all parts of the country). Look for linens, embroideries, fine handkerchiefs, textiles, woodcarvings, ceramic arts, toys, dolls, multi-blade pocket knives and music boxes. Some of the best woodcarvings come from the famous center in Brienz.
You will also find a dazzling variety of Switzerland's best-known products- watches and clocks. Other good buys include chocolates- available in all shapes and sizes, woolen sportswear, ski apparel and equipment, and precision instruments.
In the quaint old sections of Bern, Geneva and Lausanne, there are quite a few shops which specialize in old books and antiques.
Pedestrian areas make shopping a pleasure in most Swiss cities. Bahnhofstrasse in Zurich is one of Europe's most attractive shopping streets. Most major towns and resorts publish a weekly events bulletin which includes shopping hints.