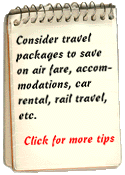 Click here for
Lausanne Palace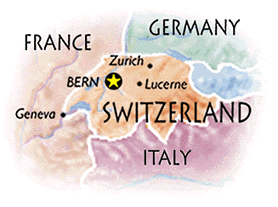 There's more to Switzerland than Alps, cheese, banks and chocolate! For instance, small villages nestled in rugged mountains, green pastures surrounding crystal lakes, and legendary art and architecture.

Points of Interest
Area: 15,941 square miles (twice the size of New Jersey). Population: 7,249,000 (Zurich, 342,900; Basel, 175,600; Geneva, 172,700). Language: German, French, Italian and Romansh.
Highlights
The Alps make Switzerland a truly three-dimensional country. From the air or from the valleys, they are spectacular. There's Dufourspitze and the Matterhorn near Zermatt, the Eiger overlooking Grindelwald, the Jungfrau and the Weisshorn, among so many others.
Swiss glaciers and streams feed the Rhine, Danube, Rhône and Po rivers. Famous passes through the mountain walls include the Great St. Bernard, Simplon, St. Gotthard and Bernina.
Geneva, the French-speaking city of Calvin and Rousseau, the Red Cross and many other international organizations, lies at the tip of its lake, from which the Rhône flows. In the Lake Geneva region are Lausanne, known for its cathedral and the Olympic Museum; Zurich is a lakeside metropolis without factory stacks; a garden city between wooded hills where German is the language. Centuries-old guildhouses have been converted into restaurants. The twin Gothic towers of the Grossmünster church are a landmark, and Fraumünster church features the splendid Chagall stained-glass windows.
Basel, the ancient city straddling the Rhine, is a center of art and research. It boasts a sandstone cathedral, a world-class fine arts museum, and is famous for its annual three-day Carnival.
Lucerne, on an idyllic lake surrounded by the Alps, is known for its medieval wooden bridge, its Water Tower and the Dying Lion Monument to the Swiss Guards of Louis XVI and Marie Antoinette.
Bern, the capital, has a remarkably preserved Old Town, complete with a medieval bear pit. The Bernese Oberland (highland) is dominated by the Jungfrau, which rises more than 13,000 feet. The gateway town is lovely Interlaken.
Ticino is the Italian-speaking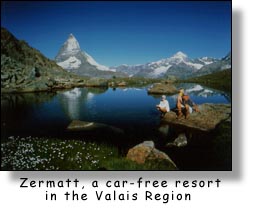 area of Switzerland. The major towns include Locarno and Lugano, sun-blessed cities on the shores of mountain-backed lakes. The Valais region stretches from the Rhône glacier down to Lake Geneva. The Rhône plain leads to such alpine resorts as Zermatt, Saas Fee and Verbier.
The Graubünden region to the east is the center of the distinctive Romansh culture and language. Some 150 valleys crease the mountainous landscape. Popular resort areas include St. Moritz, Davos, Arosa and Flims.
Montreux, is the home of the popular summer jazz festival. The Castle of Chillon is nearby.