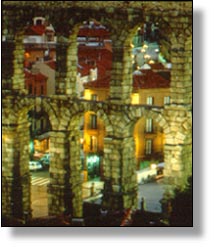 Attractions
Prado Museum, Madrid. One of the world's great museums, it shows Spanish artists, including El Greco, Velázquez, Ribera, Murillo and Goya; Italian painters, such as Fra Angelico and Raphael; and such Flemish artists as Bosch, Rubens and van Dyck. Major holdings include Velázquez's Las Meninas (The Maids of Honor), Goya's Naked Maja and Clothed Maja, and Bosch's The Garden of Delights.
El Escorial. Located in the hills northwest of Madrid, the imposing 16th-century monastic retreat houses an important collection of paintings and tapestries. The royal pantheon contains the tombs of many monarchs.
Picasso Museum, Barcelona. Through hundreds of works-mainly drawings and oil paintings on wood panels and canvas-the stages of Picasso's artistic development are followed. His famous Blue Period is especially well represented.
Museum of Fine Arts, Seville. Housed in the medieval convent of la Merced Calzada, the museum contains the most important collection of Spanish paintings after the Prado, including religious paintings and sculptures and hand-painted tiles.
Alhambra, Granada. A wealth of geometric intricacy and the subtle interchange of water, color, scent and light fill the stunning palaces and gardens of this vast city-fortress, the last bastion of the Moors.
House of Science, La Coruña. A fascinating interactive science museum, with two buildings-the Planetarium and the Domus, or House of Mankind.
Museu d'Art Contemporani de Barcelona (MACBA). Pieces by Spanish and Catalonian artists, as well as Calder, Dubuffet, Klee, Oldenburg and many others.
Guggenheim Museum, Bilbao. Opening this summer, it will be devoted to 20th-century American and European art.
Something Special
Usually played in the U.S. or Britain, Ryder Cup '97 will take place (Sept. 23-28) at the Valderrama golf course in the municipality of San Roque in Spain's southern region of Andalusia. The course, voted No. 1 in Europe by Golf World, is one of the Continent's most challenging. With recent improvements to the layout, Valderrama is in prime condition, not only to host this year's 32nd playing of the prestigious Ryder Cup, but also to become the Augusta of Europe.
After nine years, the renovated Teatro Real (Opera House) in Madrid will open in October 1997 to the strains of Manuel de Falla's "La Vida Breve." The Orquestra Nacional de España (National Orchestra of Spain) will perform the honors for the highly anticipated event, as it did for the closing concert in 1998.