Entertainment, Dining, and Shopping in Spain...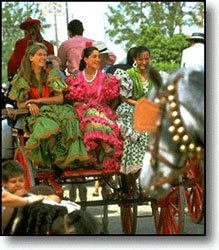 Entertainment
A night out in Spain begins late and can end with dancing into the wee hours.
The major cities for bullfights are Madrid, Granada, Seville, Valencia, Salamanca and Pamplona. The season runs from March to October. In Madrid, it peaks with the San Isidro festival in mid-May. Bullfights are part of major festivals throughout the country.
The best flamenco dancing and singing are in Córdoba, Seville, Granada and Madrid. Barcelona is famous for opera, and Seville boasts a new opera house.
Port Aventura in Salou-Vilaseca, Tarragona, is Europe's second-largest theme park. It is divided into five different "journeys" in time and space, from a Mediterranean seaport to imperial China and its Great Wall.
The Isla Mágica theme park has 16th- and 17th-century Seville as its leitmotif. It begins operating there this spring on the Expo '92 site on the Guadalquivir river island of La Cartuja.
Food & Drink
Although each region has its particular culinary nuances, cooking throughout Spain is based on the healthy Mediterranean diet of olive oil, fresh produce, fish and seafood, legumes, cheeses, meats, and of course, wonderful wines-from the famed Rioja reds to the fortified sherries of Jerez de la Frontera or the sparkling cava wines of Catalonia.
Tapas are a varied array of appetizers found throughout the country. Popular tapas are the Spanish tortilla-a potato, egg and onion omelet; paper-thin slices of Serrano ham; spicy chorizo sausage; or shrimp sauteed in garlic and olive oil.
Each region has its own specialties. The Basque country serves up sumptuous fish and seafood dishes, including bacalao (cod), squid and spider crab. The hearty stews of Asturias, based on white beans and sausages, are traditionally washed down with cider. Galicia highlights its menu with succulent boiled octopus and savory fish or meat empanadas. The roast suckling pig and lamb of Madrid and Castile-León, the almond-garlic sauce of Catalonia, the roasted red peppers and fresh asparagus of Navarre, the countless variety of rice dishes and paellas of Valencia, and the abundant olives and fried fish of Andalusia-these just whet the appetite for the exceptional cuisine of Spain.
Meals are late and leisurely - 1:30 is early for lunch, which can go on until 4; and 9 is early for dinner, which can go to midnight.
Shopping
Bargain hunters and sophisticated shoppers alike are seduced by the quality and variety of Spanish products. Leather and suede goods-clothing, shoes, luggage and accessories-are plentiful and reasonably priced throughout the country.
Elegant boutiques of stylish clothing designers can be found in Madrid, Barcelona, Seville, Valencia and San Sebastián. El Corte Inglés, the leading department store, has branches in most cities.
Traditional earthenware pottery and the blue- and yellow-glazed ceramics are a bargain. World-renowned Lladró porcelain figurines are quintessentially Spanish.
Jewelry is another good buy. There's jet from the northwest, silver from Salamanca, cultured pearls from Mallorca, and the unique jet and gold damascene work of Toledo's artisans. Wrought iron work can be found in Logroño, Seville and the Balearic islands.
Finally, the flea markets of Madrid (El Rastro) and Barcelona (Els Encants) are havens for browsers and serious shoppers. Antiques, trinkets, clothing, paintings, posters, household items-and more-fill the shops in the intricate maze of narrow streets, with something for every taste.