Attractions
Lipica, the stud farm founded in 1580, is the original home of the famous Lippizaner horses at Vienna's Spanish Riding School.
Castle-Hotels. Otocec Castle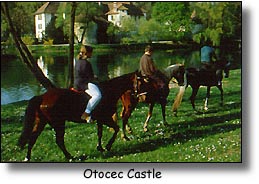 is on an island in the Krka river, and Mokrice Castle is the only one in Slovenia to preserve a working drawbridge.
Postojna caves. Discovered in 1852, these are the largest caves in Europe. The explored portion extends 15 miles, of which six are open to the public. An electric train takes you through a dramatic "landscape" of stalactites, stalagmites and high caverns.
Something Special
Bled is one of the most popular European lake resorts. Gondola-like boats- pletna- float visitors to a romantic isle with a church and the famous Bell of Wishes. Visit Bled Castle or golf close by.