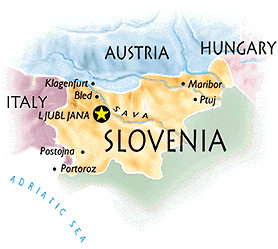 This green country tucked between the Alps and the Adriatic has everything from farm holidays and winter sports to charming cities with busy cultural calendars. Visitors are received as guests, and leave as friends.

Points of Interest
Area: 7,819 square miles (about the size of New Jersey). Population: 2,020,000 (Ljubljana, 323,000; Maribor, 108,000). Language: Slovene.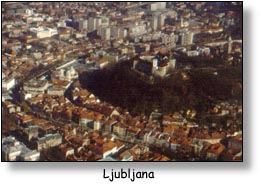 Highlights
Ljubljana, the capital, is the country's business center and cultural heart. It has been inhabited for some 5,000 years: first by Illyrians and Celts; then by Romans; and since the 7th century, by the Slavs.
Visitors can still find Roman traces, including the statue of the Citizen of Emona (as the city was called) and remains of the Roman wall. But the most distinct motif is Baroque. The old quarter, between Castle Hill and the Ljubljanica river, is the site of St. Nicholas Cathedral (with a beautiful 15th-century pietˆ) and the Franciscan church which looks over Tromostovje (the Three Bridges).
Ptuj, the oldest Slovene town, was established in 977. A mighty castle, destroyed by invaders, has been rebuilt.
Kranjska Gora is a modern winter sports center, hosting the Vitranc Cup. In nearby Planica, international ski-jump competitions are held annually.
Bovec and the Soca valley, hidden in the heart of Triglav National Park, attract sportsmen with skiing, fishing, rafting and hang gliding from peaks. Ernest Hemingway wrote about the World War I fighting here in A Farewell to Arms.
Portoroz and Piran are jewels on the Adriatic coast. Portoroz has sandy beaches, elegant restaurants, bars, discos and a casino. Piran is a charming open-air museum with Tartini Square and the 15th-century Venetian House.
Beyond the coast is the Karst region. In the cellars of the stone houses, wines are poured and sold; and in the attics, prsut- prosciutto- is cured in the bora wind.
Maribor is the second-largest city, 27 miles from Austria. Particularly interesting is the old Lent district along the Drava river. Here are the 14th-century Justice Tower and the Water Tower, today a wineshop.