Entertainment, Dining, and Shopping in Portugal...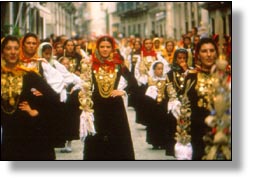 Entertainment
Fado restaurants and cafes are the center of nightlife in Lisbon. The haunting songs of fate are performed to the accompaniment of guitars. Discos and nightclubs are also popular. Glamorous casinos with the usual games and Vegas-style floor shows can be found in Estoril; at Monte Gordo, Vilamoura and Praia da Rocha in the Algarve; in Funchal, Madeira; and in Figueira do Foz, Povoa do Varzim and Espinho in the north.
Bullfights are held from the first weekend after Easter to the end of October. The bull is not killed in Portugal , nor is the picador used.
Portugal is a golfer's paradise with courses said to be the best on the Continent. Golf is centered in the Lisbon-Estoril area and the Algarve with excellent courses also found in the north, Madeira and the Azores.
Food & Drink
The spices brought back by Vasco da Gama and other navigators- curry, cinnamon, cloves, nutmeg, pepper- as well as produce from the old empire- rice, broad beans, peanuts, pineapples, sweet and hot peppers and tomatoes- make up Portugal's culinary tradition.
For fish lovers, caldeirada (fish stew) is a specialty and bacalhau (dried codfish) is prepared in a hundred different ways. Tender veal and chicken, roast kid and porco ý alentejana (pork and clams) are recommended.
Not to be forgotten are the wines- robust ports and madeiras; rich red, delicate white and rosŽ table wines; and crisp vinho verdes.
Shopping
Specialties include ceramic tiles, pottery, silver, filigree jewelry, tapestries, hand-sewn carpets, embroidery and lace, earthenware, copperware, linens, crystal and porcelain.
Street vendors are commonplace and bargaining is expected. The Baixa district is the main shopping area in Lisbon; some stores can make custom shoes on short notice.