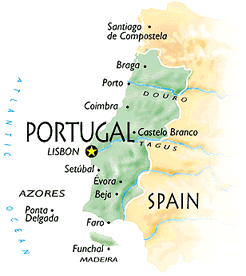 Portugal offers a feast of experiences: rugged northern mountains, rolling eastern plains and magnificent ocean beaches. And this year Lisbon welcomes the world to Expo '98.

Points of Interest
Area: 35,550 square miles (slightly smaller than Indiana). Population: 10,400,000 (Lisbon, 1,500,000; Porto, 345,000). Language: Portuguese.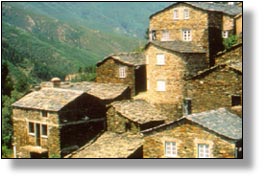 Highlights
Lisbon's wide boulevards are bordered by mosaic sidewalks. Narrow, winding cobblestone streets climb up and down the city's famed seven hills. Wander around the ramparts of the Castelo de S‹o Jorge for a spectacular view of the city. The Alfama, the old Moorish section, is a maze of streets with houses dating to the 15th and 16th centuries. The 20-minute ferry across the Tagus reveals a tapestry of orange-topped buildings. Or soak up the atmosphere at trendy sidewalk cafes along the water or in the center of town.
A drive west of Lisbon goes past wide beaches and seaside resorts. Here is the delicate pink palace and gardens of Queluz, the Portuguese Versailles. Estoril is a fashionable river resort with deluxe hotels, palm-shaded gardens, seaside cafes and the famous casino at its hub. Cascais, once quaint, now swings with boutiques, seafood restaurants, discos and nightclubs. In the bay, fishing boats rub hulls with sleek yachts.
In the Alentejo, to the east and south, rolling plains are broken by walled cities; clusters of white houses spill out of medieval walls. The provincial capital of Evora captures the region's essence.
North of Lisbon, the Costa da Prata offers unusual treasures- including the recent discovery of dinosaur eggs- as well as spas, simple country villages and grand castles. Explore the medieval city of Obidos. The second-oldest university in the world is in Coimbra. The students are known for their serenades. The Shrine of Fatima hosts thousands of pilgrims and visitors each year.
Further north is the Costa Verde, steeped in the folk heritage of the country.
The Algarve, Portugal's southernmost province, has become one of Europe's most popular resorts with its beaches, cliffs and Moorish villages.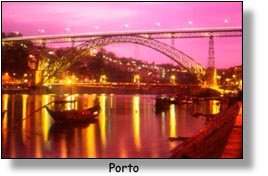 Porto is Portugal's second city and the old royal residence. It is the center of the Costa Verde, steeped in national folklore. Take the two-level Dom Luis bridge to visit the famous port wine lodges in Vila Nova de Gala, just across the Duoro river.
Madeira, a semitropical island paradise with fishing villages and peaks that rise more than 2,000 feet, is 90 minutes by air from Lisbon.
The Azores, nine mid-Atlantic islands 750 miles from Lisbon, are said by some to be the lost continent of Atlantis. Discovered by the Portuguese in 1427, they are volcanic in origin, and rich in scenery.