Entertainment, Dining, and Shopping in Italy...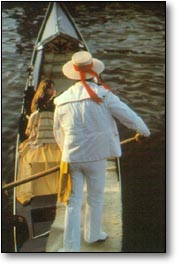 Entertainment
What could be better than to hear opera where it all began nearly 400 years ago? The opera season runs from December to June; schedules are available from the tourist office. Teatro alla Scala of Milan, Teatro San Carlo of Naples and Teatro dell'Opera of Rome are among the most illustrious houses in the world. Excellent opera can also be heard in Florence, Venice, Genoa, Bologna, Turin, Parma and Catania and the Teatro Massimo in Palermo is open again after a 23-year restoration. Performances scheduled for Teatro la Fenice, destroyed by fire in 1996, are being renstated at the PalaFenice.
During the summer, there is open-air opera in Verona, Rome and Macerata, and such events as the Festival of Two Worlds in Spoleto and the May Music Festival in Florence. Umbria Jazz (July 10Ð19) is one of the largest festivals of its kind in Europe.
Observing the street scene from the vantage point of a cafe or strolling through the streets while enjoying a delicious gelato are popular summer pastimes.
Free monthly listings of events and shows in English are widely available in Rome.
Food & Drink
The main characteristic of Italian cooking is its healthy balance. Basic ingredients of outstanding quality are cooked simply and therefore retain their original taste and freshness. Those who want to sample Italian cooking should go not only to the well-known restaurants, but also to the more modest trattorie and rosticcerie. In these homelike settings, the quality is still excellent but the prices are moderate.
Take a hint from the locals, who know that a sandwich or espresso consumed while standing at a bar may be only half the price charged for table service.
Regional specialties include the truffles and agnolotti (stuffed pasta) of the Piedmont, where the Barolo and Asti Spumante wines are excellent. In Lombardy, try risotto alla milanese (rice with saffron), osso buco (veal shanks), tangy gorgonzola cheese and panettone (cake laced with candied peel). Risi e bisi (soup with rice and peas) and fegato alla veneziana (calf's liver with onions) are specialties of Venetia, which produces the popular Soave and Valpolicella wines. It's worth a trip to Emilia just for the cappelletti ("little hats" of pasta), prosciutto di parma and parmigiano reggiano, accompanied by a good bottle of Lambrusco. Charcoal-grilled T-bone steak is something special when it's bistecca alla Fiorentina in Tuscany, also the home of Chianti. In Lazio you'll find the best abbacchio (suckling lamb) and carciofi alla giudia (artichokes fried in olive oil). Campania is the "official" home of pizza, and Sicily introduced the entire world to cannoli, cassata and other wonderful pastries.
Shopping
Specialties include fashions for men and women, ceramics, alabaster and marble objects, wood carvings, embroidery, gold and silver jewelry, cameos, coral, leather goods, violins and other musical instruments. Stores generally close between 1 and 4 p.m. but reopen until 7:30 or 8.
Elegant shops in Rome are concentrated on such streets as Via del Corso and Via Condotti. And try Via Cola di Rienzo near the Vatican. Milan's glass-roofed Galleria (built in 1878) is the model for many shopping malls in the U.S.
Most cities and towns have colorful markets where second-hand goods are sold. One of the best known is at Porta Portese, along the Tiber in Rome, open Sundays from 8 a.m. to 2 p.m.