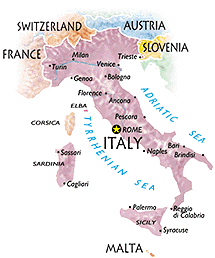 Avanti! It's always a great time to be in Italy-for the soul and palate. And for a change of pace, why not rent a house and have a home away from home-or visit a spa and be pampered to good health.

Points of Interest
Area: 116,500 square miles (slightly larger than Arizona). Population: 57,700,000 (Rome, 2,827,000; Milan, 1,536,000; Naples, 1,207,000). Language: Italian.

Highlights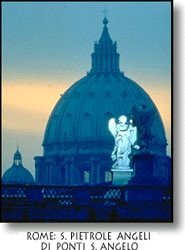 Rome, the Eternal City, has 25 centuries of history crowded into its maze of alleys, squares and catacombs.
Preparations for the Holy Year of Jubilee 2000 are under way; the Trevi Fountain now gleams as white as a full moon, and the Spanish Steps will be completely refinished. The observance of Holy Year traditionally begins when the pope, using a golden hammer, strikes three blows to open the Holy Door of St. Peter's Basilica. (Twelve months later, the door is again walled up.)
Life bustles and flows around Rome's shrines to civilization. See its beauty from atop the Capitoline Hill, watch the world go by in the Piazza Navona and marvel at the ornate Fountain of the Four Rivers.
The Borghese Museum and Gallery has reopened after 14 years of restoration. Also open again is the Palazzo Altemps, a Renaissance villa that houses an important collection of Greek and Roman sculpture.
A popular excursion is the 20-mile journey to Tivoli to see the lavish gardens and grand fountains of Villa d'Este.
Venice floats dreamlike on canals and lagoons, an impression dramatically apparent for visitors arriving by ship. You could spend all your time in the Piazza San Marco, but exploring the nooks and crannies by boat or on foot offers many rewards. The Lido resort area on the Adriatic is a favorite of summer visitors.
Florence, first city of the Renaissance, honors Giralomo Savonarola, the reforming monk martyred 500 years ago in the Piazza della Signoria. The city, unsurpassed in its art collections, is also known for its soaring Duomo and Santa Croce church, where Michelangelo, Machiavelli, Galileo and many other famous Tuscans are buried. Walking tours take you past 15th-century palaces; just outside the city are the magnificent estates that once served as country homes for wealthy families.
Milan is the business, financial, cultural and shopping capital of Italy. Its appeal includes the remarkable Gothic cathedral with 135 spires, the famed La Scala opera house and the soaring Galleria Vittorio Emanuele II shopping arcade. Leonardo da Vinci's Last Supper is in the Santa Maria delle Grazie refectory. Excursions can be made to Lake Como and Lake Maggiore.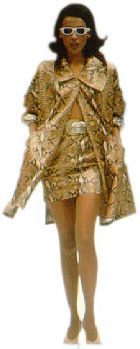 Genoa, the main northern port, rebuilt its Old Harbor section for the 1992 "Ships and the Sea" exposition dedicated to Columbus, a native son. Modern explorers admire Genoa for its grand palaces and splendid art museums. Nearby is Portofino, a jewel of the Riviera.
Naples, on its justly famous blue bay across from Vesuvius, is the great city of the south. An extensive face-lift-air pollution's grime was removed-has revealed the full glory of Naples' architectural treasures. Bologna, birthplace of Marconi, is home of one of the oldest universities in Europe. In a nation of great food, Bologna and Emilia-Romagna are unsurpassed for their cuisine.
Cortina d'Ampezzo, in the Dolomite Alps, is one of Europe's top ski resorts.
Sicily offers architectural expressions of Greek, Roman, Norman, Arabic and Byzantine cultures. Palermo, the capital, merges Arab and Norman history. Syracuse is best known for its ancient Greek theater, still used for summer shows. Taormina, the crown jewel of Sicily, is a delightful resort town that lies not far from Mount Etna, Europe's largest volcano. Catania, birthplace of Vincenzo Bellini, is noted for its splendid Baroque buildings.
Siena, in Tuscany, is one of Italy's best-preserved medieval towns and is the site of the colorful Palio horse race, held every year in July and August. Left, a 14th-century captain, in the Palazzo Pubblico.
Bari, on the Adriatic, is the center of Apulia and offers waterfront promenades and interesting architecture. The relics of St. Nicholas lie in the cathedral.
Sardinia's Costa Smeralda is a grand resort, popularized by the Aga Khan.