Attractions
National Museum, Reykjavík. Exhibits of Viking artifacts and national costumes.
National Art Gallery, Reykjavík. Founded in 1884, the collection has grown from a mere 51 paintings to more than 1,200 paintings and 3,000 watercolors, drawings and graphics.
Open-Air Museum, Reykjavík. A farmhouse, a turf and stone church, and other late 19th-century buildings display a variety of architectural styles.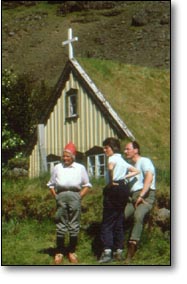 Jökulsárgljúfur National Park. Highlights include lunarlike settings, caves and the 145-foot-high Dettifoss, Europe's most powerful waterfall.
Adventurers can take a rubber dinghy down a roaring glacial river, fly by helicopter over craters and volcanoes or travel to the Westman islands, scene of a volcanic eruption in 1973 that buried half the village of Heimaey under lava. Heimaey, which has recovered from the eruption, is known for its variety of birds, including a colony of some 10 million puffins.
In Reykjavík, which has more than 40 museums and galleries, you can visit an artist's studio and see work in progress.