Attractions
Neue Pinakothek, Munich. A gallery of new masters based on the collection of King Ludwig I of Bavaria, comprising paintings from the 18th through the 20th century. The famed Alte Pinakothek is expected to reopen August 1998 after much renovation.
The Zwinger, Dresden. This significant example of the High Baroque architectural period was originally designed as an orangery and place for court entertainment. During the 19th century, a building in the Italian Renaissance style was added.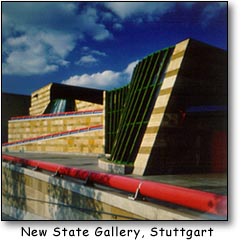 Today it houses the Old Masters' Gallery and the Porcelain Collection.
New and Old State Galleries, Stuttgart. The New Gallery features a large collection of works by Picasso, including The Bathers. In the Sculpture Courtyard are works of Henry Moore (Lying Woman), Rodin and Maillol. The Old Gallery has paintings from the Middle Ages to the 19th century.
Goethehaus, Frankfurt. The 18th-century townhouse where Germany's foremost writer was born is furnished with many period pieces. The museum contains Goethe's manuscripts and other documents.
Pergamon Museum, Berlin. Large collection of antique art and the Pergamon Altar, a temple that occupies an entire city block and which was transported, stone by stone, from the ancient Turkish city of Pergamum.
Hamburger Bahnhof, Berlin. An impressive modern art museum has opened in this old railway station.
Something Special
Germany will mark its gratitude for the Berlin Airlift of 1948 with commemorative events in Berlin and other cities. On June 27 the Allied Museum in Berlin-Zehlendorf will welcome its first visitors. From May 28 to Aug. 10, the Historical Museum of Frankfurt will mount a special exhibit.
Nostalgic Journeys continue as a tribute to U.S. military personnel who served in Germany after 1945. Saying "Welcome back to Germany—Dankeschšn," attractive packages are available for veterans and their families. Contact the tourist office for information.
Exploring Jewish Germany: A Reporter's Notebook, available from the tourist office, contains fascinating glimpses of modern and historic Jewish culture. Related exhibits can be seen at Frankfurt's Rothschild Palais.