Entertainment, Dining, and Shopping in Germany...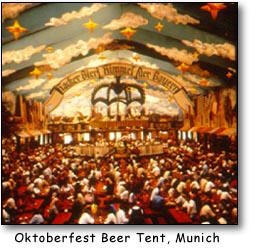 Entertainment
The Berlin Philharmonic, Munich's Bavarian State Opera and the Stuttgart Ballet are world-class companies. Classical and popular music are presented at Leipzig's Gewandhaus, Dresden's Opera House and the Alte Oper in Frankfurt. The annual Wagner Festival is held each summer in Bayreuth. Historic pageants, folklore events and food and wine festivals take place throughout the year.
Bavarian beer halls and north Germany's Kneipen (pubs) are lively places to meet people. Berlin is a mecca for Europe's new rock musicians. Baden-Baden, Garmisch-Partenkirchen and other resorts have casinos.
Food & Drink
The cuisine of Germany can be as refined, or as down-to-earth, as any in the world. In the past few years, there's been a national cholesterol consciousness-raising, While vegetarian meals are ubiquitous, the traditional specialties are still alive, as are the Konditoreien, irresistible pastry shops offering (among many other things) Black Forest cake—a bonanza of chocolate, cream and cherries.
Local wines abound and the Riesling is second to none. Excellent beers are both the lager type and bock (dark).
Shopping
Shops are open on weekdays from 9 a.m. to 8 p.m., on Saturday until 4 p.m., and are closed on Sunday and holidays. Specialties include cameras, binoculars, cuckoo clocks, sunglasses, pewter plates, cutlery, beer mugs, Meissen, Rosenthal, Nymphenburg and Villeroy & Boch china, and Hummel figurines.
Among the main shopping streets—where famous German designers from Jil Sander to Escada are found—are Maximilianstrasse in Munich, Kšnigsallee in D$uuml;sseldorf and Kurf$uuml;rstendamm in Berlin. Alsterarcade in Hamburg is a vast covered shopping area.