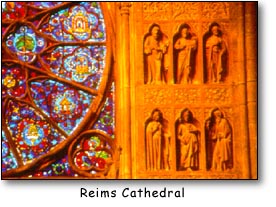 Attractions
Louvre, Paris. One of the world's most-renowned art museums celebrated its bicentennial in 1993 with the opening of the Richelieu wing. Originally built in the 19th century, the wing now houses 12,000 works, including Oriental and Islamic antiquities, and features, in the Cour Khorsabad, two facades of the Assyrian Palace of King Sargon II (720 B.C.). French sculptures, medieval through 19th century, are displayed in two huge steel and glass-roofed courtyards, Cour Marly and Cour Puget. The newly restored Museum of Fashion and Textiles, housed in the Louvre's Museum of Decorative Arts, has recently reopened. It showcases an impressive collection of costumes, accessories and textiles from the 17th to 20th centuries. Don't miss the Galeries du Carrousel, a great shopping and convention complex beneath the museum garden. This mall features 60 stores , two sit-down restaurants and a fast-food court.
Musée d'Orsay, Paris. Much of France's incomparable collection of 19th-century paintings and sculpture is assembled in this brilliantly renovated, turn-of-the-century railway terminal. It has works by Degas, Monet, Cézanne, Toulouse-Lautrec, Renoir, Van Gogh, Gauguin, Rodin and many others.
Georges Pompidou Center (Le Centre Beaubourg), Paris. One of Paris's top attractions ever since its chutes and tubes opened two decades ago. Major portions of the center as well as the Museum of Modern and Contemporary Art are closed for restoration and will reopen New Year's Eve 1999. Until then the center will use other venues for temporary exhibitions.
Versailles Palace, Versailles. About 12 miles from Paris, the vast complex built for Louis XIV includes the Hall of Mirrors.
Note: The La Carte Museum and Monument Pass covers admission for more than 65 museums and monuments in Paris and its environs. It is available for one, three or five consecutive days. Prices are about $14, $27 and $39.
Musée Unterlinden, Colmar. Celebrated home of the Issenheim Altarpiece by Mathias GrŸnewald.
Musée des Beaux-Arts, Dijon. One of the richest collections in France. Exhibits include tombs of Burgundian dukes.
Musée des Augustins, Toulouse. Housed in a former abbey, the chapter house boasts a world-famous pietˆ. Notable is the superb collection of Romanesque sculpture.
Fondation Maeght, St-Paul-de-Vence. An architectural ensemble set in the hills overlooking the medieval Provence town. The excellent modern-art collection includes sculptures and ceramics.
Musée Matisse, Cimiez. Housed in a 17th-century villa overlooking Nice and the nearby Marc Chagall Museum.
Something Special
Join Club France -"Your Key to France"- and get more for your money both abroad and at home. Club France unlocks the door to French culture, cuisine and history with unique benefits: a three-day museum pass, a complimentary Michelin guide, car-rental upgrades and discounts, bonus frequent-flyer miles, discount airline coupons, access to a Club France toll-free hotline and much more.
Travel in VIP style and receive special treatment and upgrades at more than 900 hotels, ch‰teaux, inns and restaurants. Take advantage of this opportunity to unlock the delights of France.
Annual dues are $65 and $35 per additional card member (at the same address). For information call 800-881-5060, ext. 272.