Entertainment, Dining, and Shopping in France...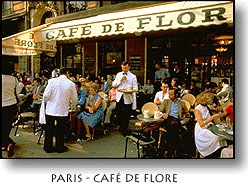 Entertainment

An English-language hotline (01-44-29-12-12) offers information on activities in Paris, ranging from opera schedules and church concerts to special events. Listings are also available from the tourist office in the U.S.

For many visitors, Paris night life is synonymous with such music halls and cabarets as the Moulin-Rouge, the Crazy Horse Saloon, the Lido and the Paradis Latin.


Food & Drink

French chefs display their finesse on everything from tarts to truffles, onion soup to oysters, and snails to soufflés. Regional specialties abound, such as the famed bouillabaisse of Marseille, the escargots and beef stew of Burgundy, and Alsatian choucroute garni (sauerkraut garnished with potatoes and sausages). Fall through spring is the season for mussels and oysters in Brittany, where pastries are also special. Normandy's cheeses are justly famous, as is its butter-and cream-based cuisine.

French wines, of course, are a glory in themselves.

Although France certainly is the place for splurging on meals, tourist menus allow one to lead the good life without spending a lot of money. Look for the sign Le Menu Touristique in windows of participating restaurants.

Cafe and restaurant bills include a 15-percent service charge - service compris.

Shopping

Specialties include fashions, perfumes, cosmetics, crystal, porcelain and pottery, jewelry, cutlery, gourmet foodstuffs, knitwear, lace, textiles and tapestries.

Major shopping neighborhoods in Paris include the Palais des Congrès de Paris, the Montparnasse and St-Germain areas, and the Forum des Halles. Department stores can be found on the grands boulevards and rue de Rivoli. Antiques dealers concentrate in the area around the Musée d'Orsay. Major department stores include Printemps, Carrousel and the century-old Galeries Lafayette.