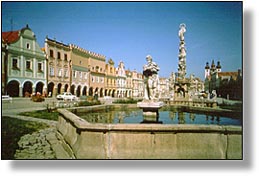 Attractions
Hradcany, Prague. Part castle (seat of leaders since the 9th century), part church and part gallery high above the city. Includes the National Gallery of Art with greats from Brueghel to Dürer; St. Vitus Cathedral, begun in the 14th century; St. George's Basilica; and the Collection of Old Bohemian Art.
Josefov, Prague. This former Jewish ghetto has the Old-New Synagogue (the oldest in use in Europe, dating to 1270), a museum of Jewish history and a famous cemetery dating back to the 15th century.
Karlstein Castle. About 20 miles southwest of Prague, this massive castle was originally built to house the coronation jewels.
Kutná Hora. This medieval mining town was, from the 13th to 16th centuries, the economic center of the Czech kingdom. With its Gothic cathedral and fortifications, it is a fine example of urban design of that time. A church in nearby Sedlec contains a kostnice (ossuary): a cellar where chandeliers, crucifixes and decorations are made from human bones and skulls.
Sumava mountains. Virgin forests, lofty ridge-top walks, rare vegetation and a pleasant climate combine to make the Sumava range a magnet for nature-lovers. For 40 years, much of the area bordering Germany was closed, leaving nature a free hand.
Lednice and Valtice. At the southernmost tip of Moravia is one of Europe's largest natural parks with lakes, romantic summer residences and lofty castles.
Moravian karst. Just a few miles north of Brno lies an area (39 square miles) of natural wonder, with canyons, valleys, gorges, underground rivers and some 400 caves.
Something Special
The Obecní Dom (Municipal House) is an Art Nouveau monument to national pride. But most of all, it is a fun place to visit. First built in 1912 next to Prague's Gothic Powder Tower, it is open again after years of renovation. An elegant cafe, two restaurants, stately suites and a gallery share space with the large concert hall. Golden chandeliers and dozens of highly decorated clocks look down on the crowds that gather throughout the day.