Entertainment, Dining, and Shopping in the Czech Republic...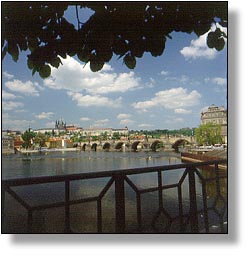 Entertainment
Classical music can be heard at the National Theater, the State Opera, the Estates' Theater and the Rudolfinum, a neo-Renaissance concert hall. An annual highlight is the Prague Spring Festival of classical music (from mid-May to June).
The Lanterna Magika is a multimedia sound-and-light show. Jazz and rock can be found at many clubs.
There are casinos in Prague, Brno, Karlovy Vary and several other spa cities.
Food & Drink
Czech and Moravian cuisine is available in top-quality restaurants as well as in taverns and beer halls. The national dish is roast pork with dumplings and cabbage. Specialties include roast goose, venison and hare.
Try the palatchinky, a crÍpe, often filled with fruit or vanilla-flavored cheese or ice cream.
Don't neglect the Czech and Moravian wines. The country's drinks are Becherovka, a bitter, herbal liqueur; and slivovice (a plum brandy).
Shopping
Glassware is a favorite for gifts. Czech crystal can be found in traditional and modern designs. In addition, there are ceramics, embroidery, laces, wooden toys and other handicrafts. Bohemian garnets are crafted into fine jewelry.
Shops are usually open from 9 a.m. to 6 p.m. on weekdays, and from 9 a.m. to 1 p.m. on Saturday.