Entertainment, Dining, and Shopping in Belgium...
Entertainment
The Royal Opera House in Brussels, the Opera of Flanders in Antwerp and Ghent, and the Royal Opera of Wallonia in Lige are highly respected by serious opera buffs. Daily jazz concerts take place in Brussels.
Brussels' Bruparck Leisure Center has opened several attractions next to the world-famous Atomium, including Mini-Europe with remarkable scale models of the most famous monuments from 70 European cities; Oceadium, if you feel like taking a swim in a tropical environment; and Kinepolis, the world's largest cinema complex, with 24 theaters.
Food & Drink
Belgian cuisine ranks with its art treasures_a feast for the taste as well as the eye. This passion for food ensures that visitors will enjoy great meals in all restaurants from gourmet to cafe.
The secret of Belgian culinary success lies in the wealth and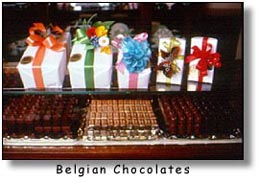 variety of the country's produce and the creativity of innovative young chefs and master chefs alike. Frites, mussels, waffles, beer and chocolate are just a few of the things to try in Belgium.
Shopping
Belgian specialties are lace, both antique and new; crystal from the Val St.-Lambert factory; diamonds from Antwerp; tapestries from Tournai; and, of course, the justly famous chocolates.
In Brussels, primary shopping streets are avenue Louise for luxury boutiques; Galeries St.-Hubert for quality goods; rue Neuve, a pedestrian shopping mall with department stores and a wide variety of shops; and the Galerie du Sablon and surrounding area for antiques.
Shopping hours are from 10 a.m. to 6 p.m. Monday through Saturday; department stores stay open until 8 or 9 p.m. on Friday.