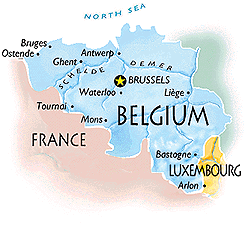 The Belgians say Belgium is the best-kept secret in Europe. From Brussels, home to both the European Union and NATO, it is only an hourÕs journey to Bruges, Ghent, Antwerp, Tournai and Lige. Come and discover medieval cities, quaint towns, Gothic cathedrals, carillon bells and pageantry.

Points of Interest
Area: 11,781 square miles (the size of Maryland). Population: 10,204,000 (Brussels, 970,000; Antwerp, 480,000; Ghent, 234,000; Liège, 201,000). Languages: Dutch, French, German.
Highlights
Brussels, capital of Belgium and of Europe (or at least of the European Union), could easily have become just another administrative city. Instead it has the sparkle of the Grand'Place; elegant shopping streets, fun restaurants, bistros and cafes; excellent jazz and lively people.
Antwerp. The cosmopolitan port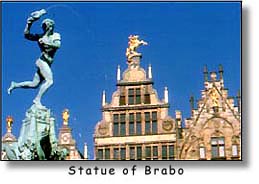 (one of Europe's busiest) is on the river Schelde where the hero Brabo (see photo) defeated a Roman giant. It is a major center for cutting and polishing diamonds. The city also has many architectural treasures, such as the Rubens House, the market square with the beautiful Cathedral of Our Lady, and the Italian Renaissance-style Town Hall.
Ghent offers the Castle of the Counts of Flanders; Van Eyck's Adoration of the Mystic Lamb (in St. Bavo's Cathedral); and miles of begonia beds.
Bruges is a medieval town best explored on foot or by canal. Carillons ring out from the great town belfry, and swans glide on the Lake of Love.
Liège is the leading city of French-speaking Wallonia. A colorful flea market operates along the Meuse river on Sunday mornings, and the Palace of the Prince-Bishops features two magnificent courtyards.
Tournai is noted for its 12th-century Romanesque cathedral with five towers and splendid workmanship. Two of the oldest private houses in Europe are found on rue Barre St.-Brice.
Bastogne, in the vast Ardennes forest, was at the center of the Battle of the Bulge during World War II. The Mardasson Monument and the Historical Center commemorate the U.S. forces, whose defense of the town was crucial to the Allies' victory.