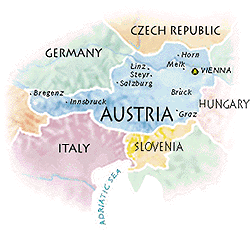 Each spring, Austria shakes off the snows of a lively ski season and reveals vividly green alpine meadows and long narrow valleys. Culture, history and hospitality here all convey the same message: Servus_Welcome to Austria..

Points of Interest
Area: 32,375 square miles (smaller than Maine). Population: 8,054,000 (Vienna, 1,593,400; Salzburg, 505,400; Innsbruck, 115,000). Language: German.
Highlights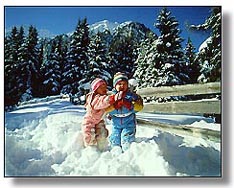 Vienna is laid out in concentric circles. Many of the most impressive structuresÑincluding the Staatsoper (State Opera House), and the Kunsthistorisches and Natural History museumsÑare located on the wide Ringstrasse, which follows along the line of the old city wall.
Two opulent palaces away from the city center are Schšnbrunn, built in the late 17th century for the Habsburgs and still used for state receptions; and Belvedere, commissioned by Prince Eugene of Savoy.
Excursions can be made from here through the Danube valley to explore ancient castles and abbeys, and to sample some of the best Austrian food and wine.
Salzburg is the birthplace of Mozart. The city pays homage with two museums and the great summer music festival. The Collegiate Church is an outstanding example of Baroque architecture, and the area in front of the church is a popular marketplace.
Bregenz is in Vorarlberg, the smallest Austrian province and one of the loveliest. Visitors can swim in and water ski on the Bodensee (Lake Constance) or enjoy musical performances on the floating stage during the Summer Festival.
Linz was vital to the Austro-Hungarian monarchy for its strategic location on the Danube. Patrician houses and Baroque architecture line the largest medieval square in Europe. Today the city is also associated with that delicious concoction, the Linzer Torte.
Graz, Austria's second-largest city, is an architectural gem, known for its noble palaces, tradition of scholarship, arts and culture with an irreverent bent and great shopping.