Beaches
One of the best kept secrets are the beautiful white sand beaches and secluded coves of Curaçao, especially appealing to honeymooners, couples and others not looking for long, expanses of sand crowded with hotels.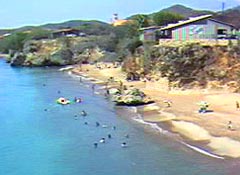 Curaçao's 38 beaches are varied. Some are surrounded by giant cliffs, others by exotic flora and fauna. But they all share the same clear turquoise water unique to this part of the world.
Following is a rundown of some of the island's best:
Westpunt Beach is best known for the huge cliffs which frame it and the divers who entertain beachgoers by jumping from the cliffs into the ocean below. A favorite of locals and visitors alike, the beach, located on the northwest tip of the island, is open to the public at no charge.
Just south of Westpunt is Knip Bay Beach, one of the island's most photographed sites because of its picturesque setting and dazzling, bright blue water. On weekends, live music and dancing turn the area into one big beach party. Changing facilities and refreshments are available during specified hours.
Playa Abao, also on the northern tip of the island, is a more quiet spot that is nonetheless popular for its clear blue water and perfect stretch of white sand. Nestled into the curved shoreline of the southern side of Curaçao, Daai Booi Bay is a romantic little beach, surrounded by towering cliffs. Cas Abao is probably the island's most modern beach, offering a refreshment stand, changing facilities, thatched umbrellas for shelter and a large parking lot.
One of the largest and most spectacular beaches on the island, Blauw Bay, also has shade, showers and changing facilities. A small entrance fee is charged.
Curaçao also offers man-made beaches that give mother nature a good run for her money. Among the best are those at the Sonesta Beach Hotel & Casino, the Princess Beach Resort & Casino and the Curaçao Sea Aquarium (a family-oriented complex that features enclosures containing every form of native sea life, as well as glass-bottom boat and semi-submersible submarine rides.)
---
Caribbean
|
Geographia Home
---
This page, and all contents of this Web site are Copyright (c) 1997-2005 by InterKnowledge Corp. All rights reserved.