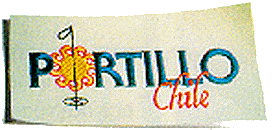 Home of Champions
---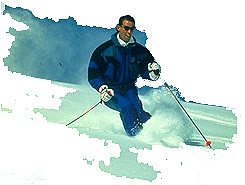 Portillo was the site of the first ever World Alpine Skiing Championship in 1966--the only one held in the Southern Hemisphere to date. Famous skiers from around the world participated, including Jean Claude Killy, winner of three gold medals in the Olympic games of Grenoble in 1968, Karl Schranz of Austria, and Billy Kidd from the United States.

Three world speed skiing records have been set at Portillo:
1963, when the North American duo of Dick Dorworth and C.B. Vaughn set the record.

1978, when North American Steve McKinney exceeded 200 km/hr for the first time

1987, when French doctor, Michel Prufer, broke the world record with an impressive speed of 217.68 km/hr.
Today, Portillo is the summer training spot for a number of national alpine ski teams, including the United States and Canadian Ski Teams.
---
Ski School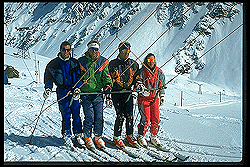 The Portillo Ski School, with a staff of 35 professionals from eight different countries, assures that the learning will be fun and memorable no matter what language you speak. With specialized programs for skiers of all ages and levels of expertise, this team of pros offers the latest in technique and instruction to guarantee a great ski vacation.



---
Heli-Skiing & Sightseeing
Portillo has an Alouette Helicopter available right outside the front door of the hotel for those seeking an even more adventurous experience. Heli-skiing is offered in a number of valleys adjacent to the ski area, weather permitting. We also offer sight-seeing flights for a birds-eye view of Mount Aconcogua and the rest of the majestic Andes. This service is provided under the supervision of qualified Heli-Guides.
Rates & Services
Heli-Ski Mardones - US$300 per person for 2 runs in Mardones Valley. Approximately 1,200 vertical meters (4,000 ft.) per run. Additional runs US$132 per run.

Heli-Ski La Parva Mountain - US$132 per person. Approximately 950 meters (3,200 ft.) per run. Additional runs US$132 per run.

Excurion to La Parva Mountain - US$132 per person.

Excurion to Ojos De Agua Valley - US$132 per person. Approximately 1,200 vertical meters (4,000 ft.) per run.

Excursion to Vermejo Valley - US$102 per person. Approximately 1,000 vertical meters (3,300 ft.) per run.

Sightseeing Flights - US$396 for 20 minutes. Maximum of 5 passengers.

Portillo/Santigo/Portillo - US$1,560 for a maximum of 5 persons.

Portillo/Valle Nevado/Portillo - US$1,320 for a maximum of 5 persons.
---
The Ski Area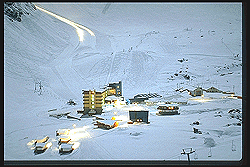 The ski area is located at 9,350 feet above sea level on the Pan American Highway between Santiago, Chile, and Mendoza, Argentina. Portillo is 100% above the tree line. Skiers are served by 12 ski lifts, including 1 Quad, 1 Triple, 2 Double, and 8 surface lifts. Terrain is 24% easy, 33% advanced and 43% difficult or very difficult. While most easy and advanced terrain is groomed on a daily basis, difficult and most difficult terrain is general natural snowpack. The Plateau, Escuela 2, Las Lomas and Escuela 3 lifts are served by a fully-integrated snowmaking system should Mother Nature choose not to cooperate! Please remember that skiing privileges are included with any stay at Hotel Portillo.
---
Lift System
Portillo Ski Resort is served by a network of 12 lifts:
Lift
Type
Length
Vertical
Juncalillo
Triple Chair
1,414 mts.
340 mts.
Roca Jack
Va et Vient
(5 passenger poma)
740 mts.
340 mts.
Enlace
Poma
320 mts.
82 mts.
Conejito
Double Chair
267 mts.
70 mts.
Plateau
Double Chair
842 mts.
302 mts.
Condor
Va et Vient
360 mts.
158 mts.
Cumbre
Poma
310 mts.
48 mts.
Los Canarios
Poma
322 mts.
74 mts.
La Princesa
Poma
125 mts.
12 mts.
Escuela 2
Poma
200 mts.
40 mts.
Escuela 3
Poma
78 mts.
08 mts.
Las Lomas
Quad Chair
601 mts.
131 mts.
Greatest Vertical Drop: 800 meters
Longest Run: 2,600 meters
---
Characteristics Of Some Trails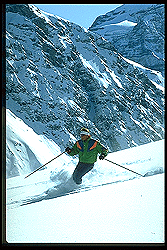 The Portillo fields are characteristic for their variety of slopes:

Juncalillo
This is a long run for intermediates with a variety of rolling terrain.

Plateau
A favorite of Portillo's visitors, it is ideal for advanced intermediates and experts and leads to some great off-piste skiing.

Roca Jack
A wide, steep slope served by an unusual lift designed by Jean Pomagalsky exclusively for Portillo and known as a Va et Vient. This slope is for experts only and provides some of the best powder skiing in the world.
---
Useful Information
---
For reservations and information contact your local travel agent or:
Portillo
General Offices
Renato Sanchez 4270, Las Condes
Santiago, Chile
Tel: (56-2) 2630606

---
Copyright (c) 1996 interKnowledge Corp. All rights reserved.