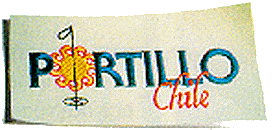 ---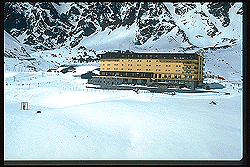 Portillo, Chile, is South America's premier ski resort, having maintained traditions that have set it apart from the rest of the skiing world for the past 35 years. Today, as for the past three decades, it is a haven for skiers and snowboarders from around the world. The warmth and grace of the Chilean people welcome every guest, and the convenient intimacy of our Grand Hotel is a refreshing change from the hectic activity at other resorts. There are virtually no lift lines or slope traffic, leaving much more time to ski. Portillo is an unforgettable ski vacation.

---
The Hotel
The crescent-shaped Hotel Portillo is located on the edge of the haunting green Lake of the Incas, which together with the towering Andes provides an unparalleled setting for skiers. The hotel is completely self-contained, with a full complement of resort services and excellent facilities to ensure that the needs of every guest are satisfied.

We offer suites, family, double and single rooms facing either the lake or the valley side of the resort.
Suites are located on the second and sixth floors on the lake side of the hotel.

Family rooms include a double room with two bunks connected by one private bath. These rooms accommodate a minimum of four people and a maximum of six.

Doubles located on the third, fourth, and fifth floors have either a valley or lake-side view; deluxe doubles on the 6th floor face the lake.

Single rooms face the valley side of the hotel and are located on the third, fourth and fifth floors.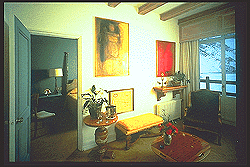 The Annexes
Portillo also offers some distinct alternatives to the traditional hotel room--two annexes, the Octagon and Inca lodges, and eight chalets, two- and three-bedroom bungalows located a short walking distance from the hotel. The Octagon offers bunk rooms for up to four people, with one private bathroom. The Inca offers bunk rooms with a large community bathroom at each end of the hallway, one for men and one for women. This facility is exclusively for the use of couples and guests under 21 years of age. (Meals for this lodging are served in the cafeteria.)

In addition to lift access, guests in the Octagon and Inca Lodges also receive six days of complimentary ski lessons with the world-famous Portillo Ski School included in the price of their Ski Week, available every afternoon from Sunday to Friday.

Rooms are available from 5:00pm on the day of arrival. Check-out time is 1:00pm. Guests arriving before check-in time can store their baggage while skiing. An extra bed can be added for an adult or a child into any type of room, but only one per room is permitted.
---
Services & Facilities
Main Dinning Room
Located on the second floor, its distinctive warm leather walls and outstanding service welcome every guest.

Piano Bar
With an international atmosphere and a variety of live music, it is a great place to meet old friends and make new ones.

Living Room
Also on the second floor, the living room is the place where guests gather over coffee or drinks to enjoy an outstanding view of the majestic Inca Lake.

Card Room
Perhaps an amenity from another era, the Card Room offers guests a quiet place to read or enjoy a game of cards with friends.

Discotheque
The place for late-night gatherings, it also offers video concerts in the early evening.

Beauty Salon
Full services are available for men and women.

Game Room
With ping-pong, pool, foosball, and electronic games, it provides great fun for children of all ages.

Sauna and Massage Rooms
Accommodates men and women, at different times.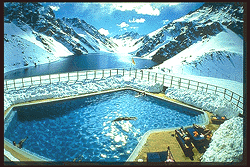 Heated Outdoor Pool
The glass enclosed pool, heated to approximately 32 degrees Celsius (90 F), affords bathers an outstanding view of the mountains and the stars.
Gymnasium
An indoor multi-use court allows guests to play organized volleyball, baby soccer and basketball.
Aerobics/Yoga Room
Organized aerobics and yoga classes are offered each day for guests looking for a different way to wind down after a day on the slopes.
Ski Shop
Located in the lobby of the hotel, the ski shop offers guests the latest in skiwear, logo clothing, souvenirs, sundry items, and accessories.
Cinema
Recently released videos are shown each day for adults and children. The cinema is also used to show daily video films of ski school classes.
Nursery/Day Care
This complimentary facility features qualified supervision, organized activities, and a spacious game room. The nursery/day care operates seven days a week, 9:00am-8:00pm. Babysitting services are available after these hours.
Kid's Camp
The Portillo Ski School operates Kid's Camp for children 3-6 years, Sunday through Friday 10:00am-12:00 noon and 2:30pm-4:30pm. The program is designed to introduce kids to snow and skiing.
Travel Agency
A full-service agency is located in the hotel lobby, offering services to coordinate all aspects of your travel itinerary.
Clinic
The hotel has a modern clinic on site, providing immediate attention for every need. There are always two doctors and two nurses on duty.
Rental/Repaid Shop
Featuring the latest equipment from Rossignol for rent. The repair shop provides full services, including stone grinding and hand tuning by qualified professionals.
Ski Check
This service allows skiers to check their skiis at any time of day.
Telephone System
All rooms located in the hotel have telephones with international direct dialing. Fax service is available at the hotel reception.
Cafeteria
The cafeteria located on the first floor provides quick meals for skiers and guests staying in the Inca Lodge.
---
Getting There
Distance from Santiago to Portillo: 159 km.
Distance from Los Andes to Portillo: 69 kms.
Distance from Santiago's International Airport to Portillo: 149 kms.
Distance from Vina del Mar to Portillo: 193 kms.
By Helicopter: In season, the hotel has available a transfer service from Santiago to Portillo at an additional fee. The trip takes 35 minutes.
By Bus: A three-hour trip from Santiago. Daily bus service scheduled for 8:00am picks up guests from Santiago hotels.
By Car: Approximately 2 1/2 hours; taxis are available for hire from the airport and Santiago hotels.
---
For reservations and information contact your local travel agent or:
Portillo
General Offices
Renato Sanchez 4270, Las Condes
Santiago, Chile
Tel: (56-2) 2630606

---
Copyright (c) 1996 interKnowledge Corp. All rights reserved.