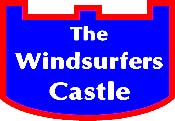 & Lac Bay Resort
---
Lac Bay Overview | Lac Bay Resort
Back to Bonaire Accommodations Page | Back to Bonaire Windsurfing Page
---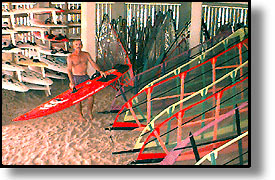 The Castle
In addition to The Conditions, The Castle makes you happy, too ...

The 55 Fanatic boards and 80 monofilm, camber-induced Aerotech sails are fully rigged and 6 meters from the water. Boards range in size from 8'6" (260 cm) to 12'6" (375 cm) and sails range in size from 2.5 to 7.5 sm.

There's no worry about a shortage or sharing of equipment because the number of sailors is limited to 24. There's no worry about the quality of equipment either; boards and rigs are updated throughout the season with the latest year's models.

Instruction at all levels is provided by Burr Hazen, owner of The Sailboard School, Sebastian, Florida, and author of the forthcoming The Windsurfer's Bible. Lesson packages are available. Above The Castle is a casual Bar & Grill, nap-inducing lounge chairs, a spectacular view of the island, and an ideal setting to photograph or videotape your friends while they windsurf.
---
Lac Bay Overview | Lac Bay Resort
Back to Bonaire Accommodations Page | Back to Bonaire Windsurfing Page
---
For details about complete packages including discount airfare, call or write Patty Hazen at:
800-253-6573
561-589-2671
Fax: 561-589-7963
email: wspatty@aol.com
The Sailboard Center
9125 US Route 1
Sebastian, FL 32958
USA
---
Copyright (c) 1996-1997 Lac Bay Resort. All rights reserved.