---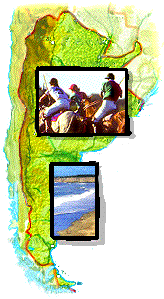 Comprising almost the entire southern half of South America, Argentina is the world's eighth largest country, covering an area of 2.8 million square km. Argentina possesses some of the world's tallest mountains, expansive deserts, and impressive waterfalls, with the diversity of the land ranging from wild, remote areas in southern Patagonia to the bustling metropolis of Buenos Aires in the north.
Its six major regions are as follows: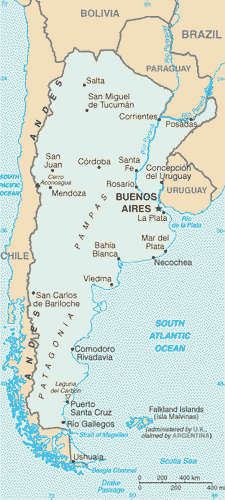 Cuyo & the Andean Northwest
This area surrounding the Andes began as a colony of Peru, but today only a few miners and herders occupy this unforgiving region of volcanic peaks and salt lakes. Very little rain falls in Cuyo, though to the east are found the fertile river valleys and subtropical lowlands of the Gran Chaco.
Mesopotamia & the Northeast
Mesopotamia, a broad, flat plain between the Parana and Uraguay Rivers in northern Argentina, is wet, swampy and extremely hot during the summer. The northern province of Misiones, a more mountainous region nearly enclosed by Brazil and Paraguay, is densely forested and contains a section of the majestic Iguazu Falls.
The Chaco
This parched area in the west is part of the enormous Gran Chaco, a region that Argentina shares with Bolivia, Paraguay, and Br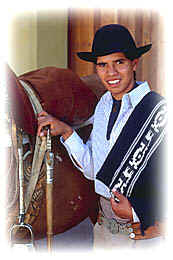 azil. The Chaco contains both grassland and thorny forest.
The Pampas
These fertile plains are Argentina's bread- basket. They consist of the Humid Pampas along the seaboard and the Dry Pampas in the west and south. The region includes Buenos Aires, as well as the world- class beaches of its surrounding area.
Patagonia and the Lake District
South of the Rio Colorado, experiences a desert climate, although temperatures range from mild to subzero and terrain varies from bucolic river valleys to the gigantic, ice-capped southern Andes. Its cool grazing grounds support enormous flocks of sheep, and numerous fruit and vegetable farms can be found in the valleys. Patagonia also holds vast reserves of oil and coal.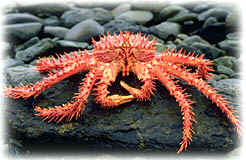 Tierra del Fuego
The Land of Fire is actually an archipelago including the Isla Grande de Tierra del Fuego (which Argentina shares with neighbouring Chile) and numerous smaller islands. Northern Isla Grande is similar in terrain to Patagonia's plains, while the mountainous area in the south is filled with forests and glaciers. Its climate is usually mild year-round, although storms are frequent.
---
Copyright (c) 1998-2012 interKnowledge Corp. All rights reserved.