---
IMPORTANT - AS FROM OCTOBER 23, 2000 AIR ARUBA HAS CANCELLED FLIGHTS UNTIL FURTHER NOTICE. FOR MORE INFORMATION CONTACT AIR ARUBA ON
(297) 830005 OR 1-800-882-7822.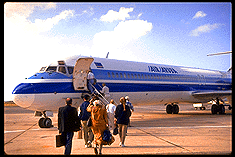 Customer Service
A committed staff with a reputation for excellence, hospitality, and service promises that the future of Air Aruba will be a bright one. We take great pride in the quality of customer service on our flights, and would always like to hear about any suggestions or concerns that you may have. Carrying on the tradition of our people, we strive to bring the friendliness of our island to the airline industry.

---
Smoking
Effective March 1st, 1996, flights to and from Newark, Baltimore and Tampa will be non-smoking throughout. Miami is not included, and flights to and from this city will retain a smoking section.
---
For Your Comfort
Our cabin attendants are pleased to offer extra assistance to elderly or disabled persons, or to those who are traveling with small children. Should you experience any discomfort in your ears due to the change in air pressure, remember swallow, yawn, or hold your nose while breathing out gently.
---
Food & Beverage
Air Aruba prides itself on our high standards for meals and in-flight service. Should you desire refreshments between meal times on international flights, your cabin attendants will be happy to serve you. However, since flying at higher altitudes will increase the physical effects of alcohol, we recommend moderate consumption.
---
Immigration & Customs
During international flights, the cabin crew will distribute immigration and customs forms and will be happy to assist you with any questions you may have.
---
Safety & Security
Your comfort and safety are our priority, and the captain and crew will be happy to assist you in every possible way. Before take-off, please follow the safety demonstration given by the cabin crew, and take a moment to read the safety card located in you seat pocket. Seat belts must be fastened, and seats and tables secured in an upright position during take-off and landing, as well as whenever requested by the captain or cabin crew.
---
---
For further information and for reservations, call 1-800-882-7822

---
Copyright (c) 1995-2008 by interKnowledge Corp. All rights reserved.