---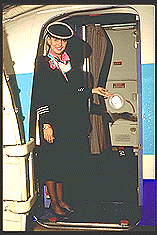 IMPORTANT - AS FROM OCTOBER 23, 2000 AIR ARUBA HAS CANCELLED FLIGHTS UNTIL FURTHER NOTICE. FOR MORE INFORMATION CONTACT AIR ARUBA ON
(297) 830005 OR 1-800-882-7822.
Air Aruba: The Natural Choice
Start your vacation to the Dutch Caribbean with warm hospitality on an airline dedicated to your comfort. Air Aruba combines the natural Aruban amiability with a professional willingness to serve. We are finely tuned to the unique needs divers may have. Relax in plush, roomy seats, sipping complimentary cocktails as our team dedicates themselves to offering the best possible airline service.
The fleet of McDonnell Douglas MD-83 and DC-9 aircraft flies a convenient schedule direct to Aruba, and then on to Bonaire and Curaçao from Baltimore, Miami, Newark, Tampa, Caracas, Medellin, Bogota, and Sao Paulo. Service from any US city is available through our airline partners.


---
Who Are We?

Air Aruba was established as the national carrier of Aruba in 1986. We are owned by Caribbean and Dutch interests in partnership with the Aruban government. In a short period of time we have grown from a small regional carrier to serving ten destinations on two continents.

We fly all jet aircraft and feature complimentary inflight cocktails. Air Aruba is continuously looking for new markets in the United States.

---
Air Aruba Routes and Destinations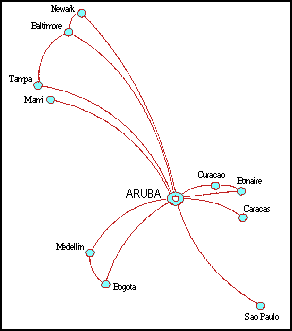 Flying Hints from Air Aruba
Return to Aruba Transportation Page
Return to Bonaire Transportation Page
Return to Curaçao Transportation Page
---
For further information and for reservations, call 1-800-882-7822
---
Copyright (c) 1995-2008 by interKnowledge Corp. All rights reserved.