History | Attractions | Getting Around | Recommended Tours
Penang History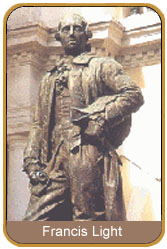 Penang was established by Francis Light in 1786 as the first British trading post in the Far East. Light had persuaded the Sultan of Kedah to cede Pulau Pinang ("Island of the Betel Nut") to the British in exchange for military assistance; though Light occupied the island, he withheld a commitment to aid Kedah until the Sultan had ceded additional territory on the adjoining mainland coast.
When Light landed, on the site of the present Esplanade, Pulau Penang was virtually uninhabited and covered in dense vegetation. In order to induce his sepoy forces to undertake the arduous work of clearing the site, Light allegedly loaded a cannon with gold coins and fired it into the surrounding jungle. Before long, sufficient land had been cleared for a settlement, and traders and merchants began to arrive.
Much of the nearly uninhabited island's appeal for traders was due to the fact that Penang was from the outset an open, duty-free port. Unlike their Dutch competitors in the region, who pressed for trade monopolies and instituted trade duties, the British were more concerned with allying themselves to regional powers than with controlling and profiting from Malaysian trade. Their primary interest in Penang was that it serve as a safe stopover for British ships plying the far more profitable China trade.
To stimulate Penang's growth, the British founder and superintendent, Francis Light, decided to allow immigrants to claim whatever land they could clear. Within a few decades, the island had attracted more than 10,000 settlers and traders, including Malays, Sumatrans, Indians, and especially Chinese. Light's attempts to stimulate agriculture on the island were largely unsuccessful, but Penang was soon established as a major trading port for tea, spices, china, and cloth. The city of Penang is today a bustling metropolitan city in which Eastern and Western influences blend to form a unique culture.
RECOMMENDED TOURS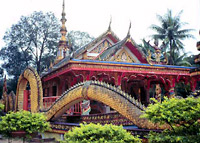 Please view our tours to Georgetown, savoring the distinctive local cuisine; see the highlights of Penang; enjoy Southeast Asia's largest Buddhist temple, Kek Lok Si in Air Itam, or visit one of the most beautiful parks in the country - Taiping Lake Gardens! (Tours starting from USD $21 per person).

Geographia has partnered with Viator to provide exciting adventure experiences in Malaysia.