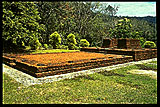 In the Bujang Valley in Kedah is Malaysia's most extensive archeological site -- the sprawling ruins of an ancient Hindu kingdom dating back to 300 AD. Over 50 tomb temples dot the site, and hundreds of relics are on display in the nearby Bujang Valley Archaeological Museum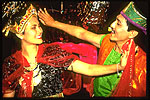 The Malay Wedding Ceremony: a lasting legacy of early Indian influence.
Hindu Kingdoms
100 BC - 1400 AD
Early writings from India speak of a place called Savarnadvipa -- the Land of Gold. This mystical, fantastically wealthly kingdom was said to lie in a far away and unknown land, and legend holds that it was on an odyessy in search of Savarnadvipa that the first Indians were lured to the Malay Peninsula. Blown across the Bay of Bengal by the reliable winds of the southwest monsoon, they arrived in Kedah sometime around 100 BC. Whether or not the civilization they encountered there was the one from the ancient chronicles will probably never be known, but it is certain that the sailors considered the trip lucrative. From that point on, and ever-growing stream of Indian traders arrived in search of gold, aromatic wood, and spices.
Goods were not the only items exchanged in the peninsula's ports: the Indians also brought a pervasive culture. Hinduism and Buddhism swept through the land, bringing temples and Indian cultural traditions. Local kings, who sent emissaries to the subcontinent, were impressed by the efficiency of the Hindu courts, and soon began to refer to themselves as "rajahs." They integrated what they considered the best Indian governmental traditions with the existing structure, and historians typically refer to these kingdoms as "Indianised kingdoms." Today, the most visible example of the early Indian influence is in the Malay wedding ceremony, which is very similar that of the subcontinent.

Ancient Malaysia | Hindu Kingdoms | The Golden Age of Malacca | Colonial Malaysia | Independence and Onward
Home | Places | People | History | Nature | Activities
| Fun | Essentials | Calendar
The Original Official Homepage of the
Malaysia Tourism Promotion Board, New York

This page, and all contents of this Web site are Copyright (c) 1996-2002 by interKnowledge Corp..
All rights reserved.