BEACHES
BICYCLING
CRICKET
DINING
ECO-ADVENTURES
FLYING
GAMING
GOLF
HUNTING GREEN FLASHES
PARASAILING
SAILING/BOATING
SHOPPING
SNORKELING
SPORT FISHING
TENNIS
WINDSURFING
PEOPLE-TO-PEOPLE PROGRAM
People-to-People is a year-round Ministry of Tourism programme intended to give our visitors a genuine and informal view of Bahamian hospitality and culture as you might see it when visiting a friend. Volunteers holding interests similar to yours are available to give a sample of Bahamian life in a convenient, personal way. You may join them at home for pleasant conversation and an authentic Bahamian meal, at civic or social clubs, at a church service or sports event, or see the sights with a native interpretation.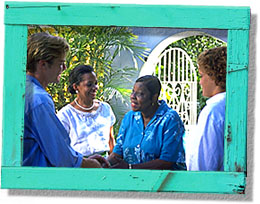 People-to-People is a popular activity. More than 1,000 volunteers are available in Nassau and about 100 in Freeport. They come from all walks of life and undergo an eligibility screening prior to becoming enrolled. Visitors are matched with residents of similar age groups, interests and professions; for example, pairing a visiting school teacher with a Bahamian teacher. Because many volunteers are professionals, most get-togethers take place in the evenings or on weekends and volunteers will gladly donate their time in the spirit of international goodwill.
One of the main organized events of the program is the monthly Tea Party at Government House, held beween 4:00 pm to 5:00 pm on the last Friday of each , (January to August). It is open to 200 guests, who are hosted by the wife of the Governor-General of The Bahamas. Other highlights are:

Home-Away-From-Home Program: Volunteer hosts become foster parents to foreign students attending Bahamian colleges.
Pen Pal Program: A great way to increase international understanding and communication.
Spouses Program: Activities are planned for spouses while delegates attend conventions.
To participate, you may register with the Social Director at participating hotels or call the People-to-People coordinator, Ministry of Tourism, telephone (242)326-5371, (242)328-7810, (242)326-9772; fax (242) 356-0434 . In Grand Bahama, contact the People-to-People Unit, telephone (242)352-8044. The People-to-People program is also available in Eleuthera, Exuma, Abaco, Bimini, and San Salvador.
Please note that request should be received at least three weeks prior to visit.