Threats | Conservation | Research
Protection and Observation

Introduction
JoJo is a unique Atlantic Bottlenose dolphin who has been living and playing in the shallow waters of the Turks and Caicos Islands in the West Indies since 1980. He is one of the few dolphins around the world who voluntarily interacts with human beings in his own natural habitat.
Much loved by the islanders, the government has proclaimed JoJo a National Treasure, with a specially appointed warden to protect him.
The friendly dolphin has become a powerful symbol for nature conservation in the Turks and Caicos Islands. Sparsely populated and so far unspoiled, the islands and their turquoise waters are a unique haven for wildlife. Marine Turtles, migrating whales, schools of wild dolphins and a variety of rare birds are found in the area.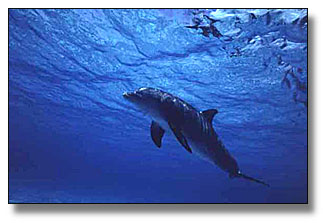 Seeing so many tropical islands ruined by careless development, the government has recently committed itself to the path of ' eco - tourism' in an effort to protect the Country's fragile natural heritage. The small island nation has already established 27 national parks and protected areas, in an effort to safeguard its pristine shores and coral reefs.
Threats
Despite these considerable efforts, JoJo and his environment are coming under increasing pressure as the influx of tourists grows. Damage to coral reef areas in particular are showing a worrying increase, caused by pleasure boats and water sports. The same activities have also caused injury and harassment to JoJo in the past.
Conservation
The JOJO DOLPHIN PROJECT is initiating a range of practical conservation measures, Including:
The observation program also allows life saving intervention when required.
"Because of the Project, the development trust in the relationship, and my position as a warden, JoJo's life has been saved on numerous occasions. I have been able to treat JoJo's caused by such incidents as entanglement in turtle nets, infections from sting ray barbs, confrontations with sharks and impacts from water ski boats."
Scientific Research
Data collected by the JOJO DOLPHIN PROJECT will be analyzed by specialist institutes and University research teams. Besides providing information which will have a practical application on the protection of wild dolphins and their habitat, the behavior data may even assist dolphins currently in captivity, by utilizing data collected in the wild and in captivity, a comparative behavioral study will be made possible, providing compelling information for aria and for the fundamental reform of legislation governing the international trade and welfare of wild dolphins.
Expert medical assistance for JoJo assistance for JoJo and the island's cetacean population.
Assistance when cetaceans are stranded and cannot find their way back to their own kind.
Public awareness programs for visitors and residents, explaining the needs and protection of JoJo, other wildlife and their habitat.
Legal protection for JoJo by providing a warden, and expert advise aimed at consolidating and improving legal protection for the Turks & Caicos ecosystem.
Non-invasive scientific research to better understand the needs, habitats and habits use of wild cetacean.
Protection and Observation
Through patient observation since 1987, Dean Bernal, JoJo's appointed warden, has complied an impressive collection of data providing a rare and complete look into a wild dolphin's life in the open ocean. Diaries, data sheets, video and film materials now form a library and a mine of information on the behavior of dolphins in their natural habitat.
¨I have been fortunate to witness and document JoJo's behavior and interaction with whales, sharks, manta rays, other dolphins, numerous other forms of marine life, submarines, people and even terrestrial animals. Over the years, I have documented JoJo's growth through puberty, his competing for his position in a pod, his sickness and well being.¨
As JoJo grows older, Dean Bernal's research is becoming far more complex: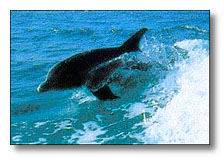 ¨Since JoJo has expanded his 26-mile home range to 260 miles, it makes the research much more challenging, not to mention interesting and rewarding. JoJo is now mating and travelling with other dolphins intermittently, finding new feeding grounds, utilizing new habitats and migratory routes, and continuing to expand his experiences of what a young free-roaming, wild dolphin should be living and experiencing...The BELLERIVE FOUNDATION, aware of the importance of this information from a conservation and animal welfare perspective, has given me the opportunity to develop my work into a full-time research project. Never before has the chance to learn about the behaviors, interaction, health, habitat and needs of a single wild dolphin been so clearly available for study. The information is vital to the conservation of dolphins because it provides a rare, intimate and relatively complete look at the dolphin's life in the wild.¨
The Original Official Web Site of the Turks & Caicos Tourist Board
This page, and all contents of this Web site are Copyright
(c) 1997-2006 by interKnowledge Corp.. All rights reserved.