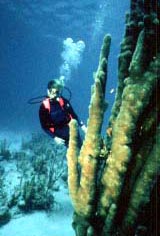 Grand Turk: Grand Turk represents a wealth of tremendous experiences for the diver. Less than a quarter of a mile off shore and starting in just 25 to 45 feet of water a coral wall runs the full length of the island, with profiles ranging from steeply sloping terrain to interesting coral undercuts and perfectly vertical drop-offs. The sponge growth and fish population are spectacular and distinctively different from the other Turks and Caicos sites. You can expect Manta Rays in the summer, Turtles year-round and Whales in the winter. This a primary corridor for migrating Humpback Whales from December through April.
Providenciales: The remarkable walls of the Northwest Point Marine park, starting at just 50 - 60 feet of water features vertical structures laden with elaborate, thick clusters of multi-colored sponges. Watch for schooling fish, Turtles, Spotted Eagle Rays and much more. To the north of the island is a well developed spur and grove system, with thick fingers of coral sloping from 30 feet to a minimum of 60 feet. This drops abruptly to a sand shelf at 100 feet and is well decorated with soft corals, Black corals and thick growths of gorgonians. Each year brings Manta Rays, Humpback Whales, Dolphins and Whale Sharks.
West Caicos: This a focal point for Provo based dive operators and live-aboard dive vessels. A wall running 2 miles along the western shore offers some of the finest diving in the islands, featuring some of the most mature sponge formations anywhere. Expect the Turks and Caicos trademark of clusters of Purple Tube Sponges and strands of Antler Sponges wrapped in cloaks of brilliant Rope Sponges, along with visits by Sharks, Eagle Rays, Turtles and bigger fish. The wall structure varies from dramatically sloping to breathtakingly vertical.
North Caicos: Diving across the north end of North Caicos, as in the other islands, takes the form of spur and groove formations that drop from in a mini-wall from 30 - 70 feet. This is the same barrier reef that stretches across the entire northern boundary of the Caicos Islands, and the diving is similar to that found on the north shore of Providenciales. This area sees far fewer divers, with a subsequent increase in marine life. Expect an excellent fish population with the occasional larger visitor. Divers based at North Caicos frequently visit the fine sites at the nearby Pine Cay and the other Caicos Islands.
South Caicos: Known as the big fish capital of the Turks and Caicos, with large Pelagics seen here in great numbers. A vertical wall wraps around the southern edge of South Caicos, then extends the length of Long Cay. This is reputed to be the finest diving in the Turks and Caicos.
Salt Cay: Blessed with a wall running the length of its western shore, sites include deep sponge draped ledges as well as shallow coral gardens. Turtles, rays, Dolphins and Groupers are all encountered here. During Whale season (December through April), this is prime territory for Whale watching. To the south of Salt Cay lies the remains the HMS Endymion, a British warship that went down in the late 1700s. She now lies in less than 30 feet of water, an ancient, unsalvaged wreck site. More than a dozen cannons and several large anchors mark her grave.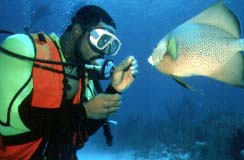 The Original Official Web Site of the Turks & Caicos Tourist Board
This page, and all contents of this Web site are Copyright
(c) 1997-2006 by interKnowledge Corp.. All rights reserved.