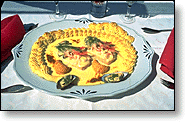 Sweden offers the traveler a rich variety of world-famous foods for almost every taste and budget. From local specialties in cozy restaurants or country inns to "nouvelle cuisine" in elegant hotels or sophisticated restaurants of international standard. Restaurants offer excellent values, especially lunch, served from 11am-2pm. Look for the daily special, or "Dagens." It can be a big meal, so you won't have to worry about holding out until dinner. Tipping is also no worry: most hotels and restaurants include a service charge, though some restaurants expect a 7-10% gratuity for evening meals.
| | | |
| --- | --- | --- |
| City tours give you a feel for the pulse of today's cosmopolitan lifestyles and the rich history of times past, and in Stockholm, Gothenburg and Malmö tourists can purchase "City Cards" at the local tourist information offices and some hotels. The cards entitle tourists to unlimited travel on each city's public transportation systems for 1, 2, or 3-day periods. The cards also provide free or reduced admission to museums and major attractions throughout the city, boat tours, free metered parking, and free travel by Tourist Line between sights. | | |
A free guidebook will show you just how easy it is to get around town. City Cards are included in the Stockholm, Gothenburg and Malmö packages described under Hotel Discounts.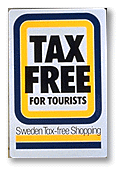 Sweden is known for its traditional handicrafts, furs, design and crystal, pewter and brass works, as well as automobiles, aquavits and furniture. Quaint shops and department stores offer a large selection of merchandise. A value added tax called "moms" is always included on all posted prices. Shoppers can avoid this tax by having their purchases shipped by the store to North America or by shopping at one of the 15,000 stores that offer tax-free shopping for purchases of at least SEK 200 ($25). Ask for tax-free service at the time of purchase. Upon departure at any exit point port, ferry terminal, airport, border crossing from the last EU country visited - make sure to visit the "Tax-Free Counter" and present the required documents and purchased goods (in sealed bags) before check-in to receive your VAT refund.

---
Copyright (c) 1997 - 2005 interKnowledge Corp.
All rights reserved.