In Sweden, both inexpensive and expensive hotels meet high standards. So no matter what price you pay, you'll always get a clean, comfortable room. Of course, you don't have to stay in a hotel. You can also stay at country inns, manor houses, summer hotels, vintage sailing ships like Hostel Af Chapman in Stockholm, old castles or even renovated prisons like the Hotel Bilan in Karlstad or Långholmen in Stockholm. A farm, an apartment, or a specially designed holiday village, where you'll have your own cottage and have access to common recreational facilities, are other options. Or why not go camping?
Bed & Breakfast and Farm House Holidays
Working farms with livestock or produce are among the more original places to stay in Sweden. Each one is unique. Most farms offer accommodations by the week. Bed & breakfast accommodations are also available and can be booked for one or a few nights. Rates from $30 include a big farm breakfast. Requests for bedlinens and towels are usually necessary or can in some instances be supplied at some locations for an extra fee.
Cabins & Holiday Villages
Families or groups traveling together will find substantial savings at cabins and holiday villages, but they are popular, so book well in advance. These facilities of self-sufficient apartment complexes are generally located by the sea or a lake, in the mountains or near recreational areas. Off-season prices are 20-40% less than high season (usually summer, but also winter in certain areas). Rentals range from $150 to $2,000 per week. Holiday villages often have swimming pools, tennis, golf, horseback riding, and a restaurant close by. Each unit has a kitchenette or kitchen and 4-10 beds.
Camping
Sweden has a tremendous variety of over 700 attractive camping sites in picturesque surroundings, often on a lakeside or by the sea. Most sites are open with full service from June 1- Sept. 1. In Sweden, contact: SCR The Swedish Camping Site Owner's Assn., PO Box 255, S-451 17 Uddevalla, Sweden, Tel: 011-46-522-64 24 40; Fax: 011-46-522-64 24 30.
Castles & Manor Houses
Sweden has many well-preserved castles (called "slott"), some from the 14th and 15th centuries. In the province of Skåne alone, there are 200. Some owners have opened their parks and gardens to visitors to enjoy, but some are also hotels. Still others supposedly include their own ghosts. Many travel companies offer various castle tours throughout Sweden, including escorted, individual and custom designed travel.
Manor houses (called "herrgård") are substantially less expensive than city hotels and certainly more quaint, situated in beautiful countryside locations and with a distinctive Swedish character and charm. Expect to pay $80 - $137 for a double room with private facilities, including breakfast. In the "Hotels in Sweden" directory, some manor house hotels are listed. Others belong to the unique manor house associations, Countryside Hotels Sweden and Romantik Hotels (see below), assuring quality accommodations and offering combined tour and fly/drive options.
Countryside Hotels Sweden: 35 carefully preserved resort manor hotels of high standard at the most beautiful locations in Sweden. See also Discounts and Hotel Cheques.

Romantik Hotels: An association of privately owned hotels with more than 180 members in Europe, USA and Canada. In Sweden, 10 carefully selected hotels offer guests a genuine historic setting, pleasant atmosphere, superb cuisine and, above all, personal service. Prices range from $152 for a double room with private facilities, including breakfast.
Hotels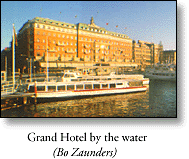 Cities offer international class hotels in all categories: deluxe, first , tourist and budget, as well as special non-smoking rooms and rooms adapted for physically challenged visitors. Besides excellent rates, breakfast (usually a full, satisfying buffet of meats, eggs, cheeses, breads and cereals) is almost always included in the price, as are all local taxes and service charges. For a complete hotel listing, request the "Hotels in Sweden" directory from the Swedish Travel & Tourism Council. The directory indicates hotels equipped to receive physically challenged visitors and those will rooms suitable for allergic people.
Spas and Health Resorts
There are many year-round spas and health resorts in Sweden, with rates from $100-150 per day. These great, atmospheric accommodations are wonderful places to get in shape or pamper yourself with a famous Swedish message. For a list of spas and health resorts, consult the "Hotels in Sweden" brochure.
Discounts
There are tons of discounts available at hotels all over Sweden. For a complete listing, check with your travel agent or get the "Hotels in Sweden" brochure.
Youth & Family Hostels
There are 301 youth and family hostels (STF vandrarhem) to choose from in Sweden, and they come in all kinds of shapes and sizes: farms, modern buildings, etc. What they have in common is that they are always clean, cheap, and usually sleep two to four persons per room. Guests should bring their own sheets and towels, but this could sometimes be accommodated for an extra fee.
---
Copyright (c) 1997 - 2008 interKnowledge Corp.
All rights reserved.